FA Cup preliminary round: Ossett United aiming high after summer merger
By Neil Johnston
BBC Sport
Last updated on .From the section FA Cup160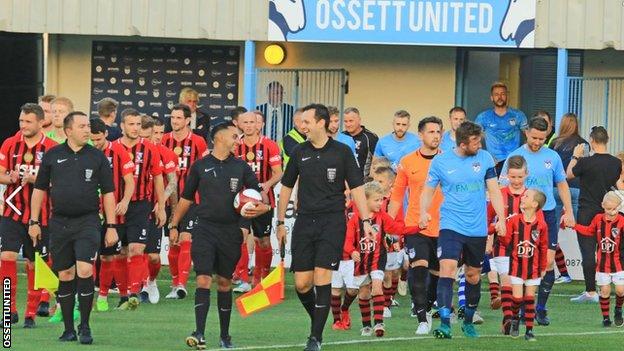 Luke Swinden and Marty Oldroyd have been football rivals for years.
While one is a lifelong Ossett Albion supporter, the other has passionately followed neighbours Ossett Town home and away.
On Saturday, the pair will stand side by side cheering on the same team.
After 74 years of rivalry, Albion and Town joined forces this summer to become Ossett United in a merger aimed at providing the small West Yorkshire market town with a club capable of challenging for a Football League place in the next few years.
This weekend they face Mossley in the FA Cup preliminary round - one of 160 ties being played between Friday and Monday.
"Normally when you walk through Ossett, you see people wearing Manchester United shirts," Swinden, chairman of Ossett United Supporters' Club, told BBC Sport.
"Now there's a sea of Ossett United sky blue shirts."
So what happens when two long-standing rivals suddenly become one? How does a football merger come about, and who are the winners and losers?
'Clubs at this level clinging to life'
Situated about four miles from Wakefield and eight miles from Leeds United's Elland Road, Ossett has local attractions in the form of top-flight rugby league and Championship football.
Last season, Albion and Town struggled to attract fans to games as they finished 15th and 16th respectively in the Northern Premier League Division One North - at English football's eighth tier.
Town, formed in 1936, did host a 1,000-plus crowd by reaching the FA Cup fourth qualifying round, but attendances above 200 were rare.
Albion, located about half a mile away and eight years younger than their neighbours, fared no better.
"Ossett is not a big town," said United chief executive Phil Smith. "We realised both teams were restricting one another from progressing. There are lots of clubs at this level clinging to life."
Talk of a merger had previously surfaced, but on 4 January 2018 everything changed after a chance meeting between Albion chairman John Chidlaw and Town vice-chairman Lee Broadbent.
"John's son was playing in an under-13 match and Lee was refereeing the game," added Smith.
"Afterwards they talked about football in Ossett. Within days, officials from both clubs were sitting around a table discussing the pros and cons of a merger.
"A plan was drawn up, the Football Association backed it and our own league said they felt it should have happened five years previously."
On 1 June, Ossett United was born - but not without opposition from fans of both clubs.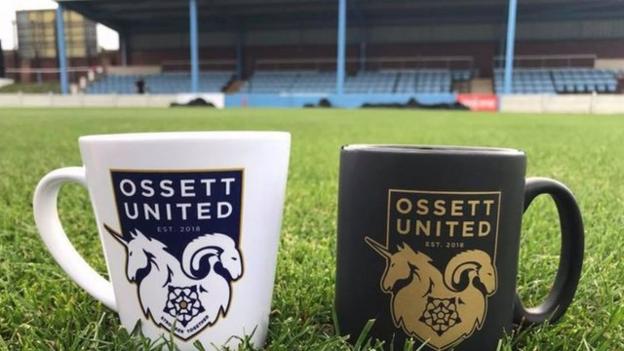 Anger on Facebook and pool-table fears
While bringing Ossett's two main teams together makes financial sense, the merger has its critics.
"There's one guy who refuses to come to games now," added Smith. "His dad was part of Albion's committee. He says it's atrocious what we have done.
"Each time we put out a post on Facebook, he clicks the angry face."
With Ossett Town a membership club, a vote was put to fans. Had 11 of 43 members voted against, the merger would not have gone ahead.
"The first four ballot papers drawn were against it," added Smith. "But in the end there were only six out of 43 who opposed it.
"I asked one guy why he voted against and he said: 'I play pool here every Wednesday night and if this place gets any busier I'll lose time on the pool table.'"
Oldroyd has followed Town home and away for the past five seasons after becoming disillusioned with the cost of travelling the country watching Leeds United.
"Those against the merger were worried about the history of the two clubs being left behind," he said.
Swinden, an Albion fan, added: "In bringing the two clubs together, there has been a conscious effort not to forget where we have come from."
James Rogers, Town's former chairman and now a United director, understands the opposition but is convinced the merger ensures Ossett have a team capable of climbing the football pyramid.
"We've probably got 90% of the fanbase from both clubs behind what we are trying to do," he said.
"I know the challenges of running a non-league club, particularly one in a town as small as Ossett.
"Town's turnover last year was in the region of £200,000. Maybe half of that came through the bar - the other half from contributions, sponsorship, gate receipts and advertising just to compete and stay safe.
"If you want to push for promotion and do much more then you are looking at investment over and above what we were able to do last year."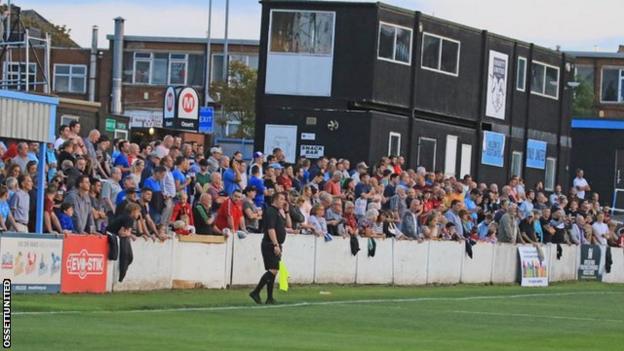 The former Premier League player who had to reapply for his job
The amalgamation left United with some difficult decisions to make - after all, the new club suddenly had two sets of players, two managers and two grounds.
Town's 1,950-capacity Ingfield base was chosen as United's home, partly due to its location in the middle of Ossett. Albion's ground is now home to Ossett United Ladies.
The choice of manager was less straightforward.
Albion and United finished on the same number of points last season, the former one place above their rivals in the table because of a superior goal difference.
In the end, Albion's 34-year-old player manager Andy Welsh, who made 14 Premier League appearances in Sunderland's midfield in 2005-06, was selected ahead of Town's Lee Ashforth after both were interviewed.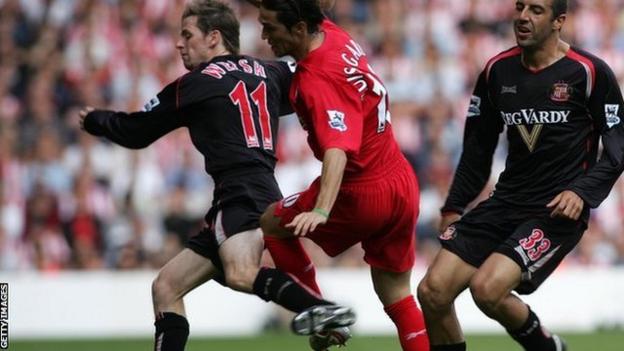 "I was appointed Albion player manager in December and had to reapply towards the end of last season," said Welsh, who played in Toronto's inaugural season in Major League Soccer in 2007.
"The merger has positives and negatives from my point of view. A lot of people see it and think we've got loads of money to spend on player wages."
Red to sky blue
Ingfield has had a summer transformation. Everything that was red - Town's traditional colours - is now sky blue, the colours of Ossett United.
Three hundred sky blue seats have been shipped over from Japan, and there is evidence the public of Ossett are getting behind the new venture.
"Albion and Town only managed to sell a combined 111 shirts in their history. United have sold more than 360 since 1 June," added Smith.
"Albion sold four season tickets last season. United have sold 130-plus for 2018-19."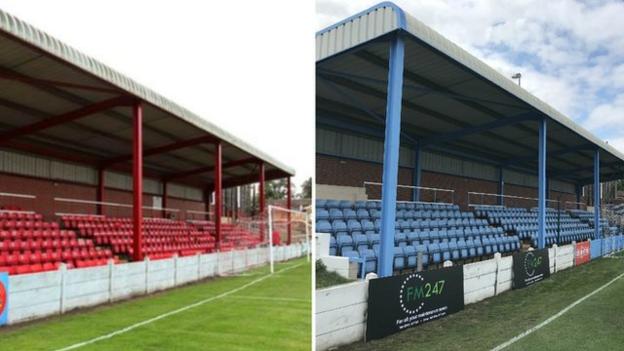 The feel-good factor continued when a home pre-season friendly against Leeds attracted 1,600 fans - the Championship club donating their share of gate receipts to their non-league neighbours.
"We broadcast that live on Facebook and had 65,000 views," added Smith. "Our target is to get 500 fans to every game, and every primary school pupil in Ossett has been given a free season ticket."
From playing the world champions to Ossett
Most of United's squad is made up of former Albion players from last season, including Adam Priestley.
Three years ago the forward was playing against then world champions Germany for Gibraltar in a Euro 2016 qualifier.
This weekend Priestley is set to turn out in United's first competitive Saturday home game alongside Aidan Chippendale, who was in the same Huddersfield squad as Chelsea and England midfielder Danny Drinkwater in 2009-10.
Both Priestley and Chippendale have scored in United's opening two games in Northern Premier League Division One East this season, a 3-1 win at Loughborough Dynamo and a 4-0 home victory to Cleethorpes Town.
New signing Shiraz Khan is attracting interest from the Pakistan national team, while captain Alex McQuade has League One experience at Shrewsbury.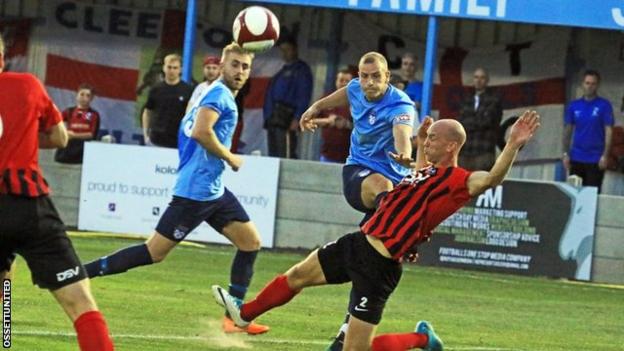 "It wasn't that hard making decisions about which players would play for United," added Welsh.
"When we played Town at the turn of the year they were 17 points ahead of us yet we finished above them.
"Last season wasn't good enough for both clubs."
It's early days but United are already beginning to look 'Stronger Together' - the club's new motto.