Liverpool: Why Trent Alexander-Arnold can back up the hype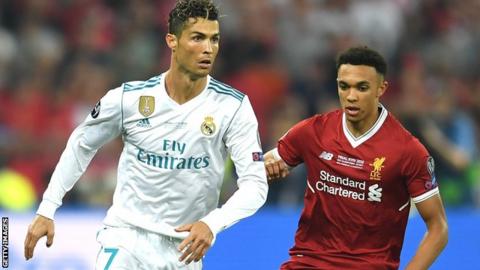 A Champions League final and a World Cup appearance at 19 years old - Trent Alexander-Arnold is doing big things at a young age.
So what is it about the Liverpool teenager that has got everyone excited?
The boy who grew up just minutes away from Liverpool's training ground and has been at the club since the age of six has already made 47 first-team appearances, as well as representing England at every age group from under-16s upwards.
His promising talent was on display in Liverpool's first two Premier League games against West Ham and Crystal Palace this season - but can he become one of the best players the club has produced?
A fear of failure, a growing maturity and a strong understanding of the game are among the qualities that have helped him become Jurgen Klopp's right-back in the Liverpool manager's first-choice team.
Here, BBC Sport takes a closer look at his attributes and mentality with insight from his former academy coach Neil Critchley.
Moving on from the player who 'kicks off'
It didn't always go Alexander-Arnold's way. He was prone to bursts of frustration as a young player and was "quite hard on himself", such was his desire to win.
"He could be difficult at times," Critchley told BBC Sport. "He would get frustrated and sulk, get his head down.
"He showed immaturity at times if he wasn't performing the way he wanted or the team weren't - if they were losing for example."
These fits of frustration threatened to hold Alexander-Arnold back.
One of the most stark examples occurred in 2016 when, after playing "very well" against Nottingham Forest for Liverpool's under-18s in 2016, he had a "disastrous game" against Manchester City just a few days later for the under-23s as he adapted to a new role as a right-back.
"It was probably the worst game he has ever had," said Critchley. "I went to watch him and he kicked off. It was a car crash. That summed up where he was at in that moment. It was about him needing to become more consistent."
Last season could have gone the same way. He struggled against Marcus Rashford away at Manchester United in March and was given a hard time by Crystal Palace just over a week later.
But two months after that he was starting in the Champions League final and kept Cristiano Ronaldo at bay, having dealt with Manchester City's Leroy Sane in the quarter-finals. Was that a sign he had tempered the temper?
"By the end of last season he had matured and learned from his mistakes," said Critchley. "But that was because he was allowed to develop and gain consistency.
"He had those games where he kept Sane relatively quiet over the 180 minutes and I thought he played exceptionally well. He then got his World Cup call on the back of that.
"He will want to play for Liverpool for the next 10-15 years and you have to strive to get better."
'The fear that drives him'
Part of Alexander-Arnold's mental strength comes from a "hungry" attitude and a fear of being replaced in the side.
There is now real competition for places at Liverpool - their summer spending of almost £170m is proof the club can attract some of the world's best talent - and team-mates Joe Gomez and Nathaniel Clyne are other strong options at right-back.
"He had an inner drive that he kept well hidden," said Critchley. "He had that 'I'll show you and I will prove you wrong' attitude. He was a really focused and driven boy.
"Obviously he has the ability but he gets his head down and does his work. He will always have that fear that someone will come and take his place. That fear drives him to be better."
Alexander-Arnold still lives with his parents so is constantly reminded of his upbringing as he followed in the footsteps of his idol Steven Gerrard as a born and bred Liverpudlian "living the dream".
"His parents, his upbringing - it all goes into the pot. He has been developed in a really good environment. It is great for him to give younger players of the future some hope there is a pathway into Liverpool's first team. He was a local boy, playing in the city and he had those dreams. They can come true.
"He should thank his parents daily. Being the person he is makes him the footballer he is," added Critchley.
Alexander-Arnold's stats in all competitions in 2017/18
Appearances (starts)
33 (30)
Minutes played
2,652
Goals
3
Assists
2
Chances created
32
Successful crosses from open play
19
Tackles won
43/67
Interceptions
53
Successful dribbles
30/65
Blocks
7
Understanding of the game
Gerrard wrote in his autobiography that Alexander-Arnold had "all the attributes you need" after seeing him captain Liverpool's under-18s.
He has since evolved into one of the Premier League's most promising right-backs, with a passing range few 19-year-olds share thanks to his background as a midfielder.
Alexander-Arnold completed 17 successful crosses from open play in last season's Premier League and created 25 goalscoring chances - more than Liverpool's opposite full-back Andrew Robertson.
He also made 53 interceptions in the last campaign - displaying a strong understanding of the game - and is entrusted with many of Liverpool's set-pieces after producing a number of dangerous deliveries.
The biggest stage appears to be no problem either - achieving an 89% pass accuracy on his World Cup debut against Belgium and being handed the same set-piece responsibility by England manager Gareth Southgate in only his second cap.
"Whatever position he plays, that is another string to his bow. He sees the game when he is on the pitch. He could end up playing in midfield but why not be the best right-back that Liverpool has ever produced?" said Critchley.
"Or go on to play for your country in so many games and be known as one of the best right-backs in the world. That is what he will be trying to do."