Kevin de Bruyne: Man City midfielder suffers knee injury in training
Last updated on .From the section Man City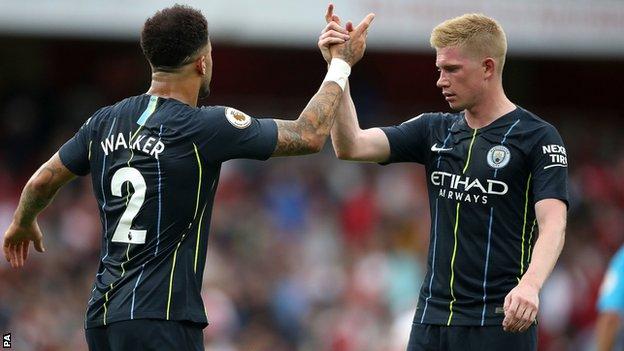 Manchester City's Kevin de Bruyne is having tests on a right knee injury suffered in training on Wednesday.
City said the extent of the injury suffered by the 27-year-old Belgium midfielder is "not yet known".
In 2016, he missed 12 games after injuring his right knee during an EFL Cup semi-final victory over Everton.
De Bruyne was City's player of the season last term, scoring 12 goals and providing 21 assists as his side won the Premier League and EFL Cup.
City, who began their title defence with a 2-0 victory at Arsenal, next play Huddersfield at home on Sunday.
They then face matches away to Wolves and at home to Newcastle before an international break.
Their fifth match of the season is at home to Fulham on 15 September, with their first Champions League group game to take place on 18 or 19 September.
City broke several records in 2017-18, including reaching 100 points, winning 32 matches and scoring 106 goals.
Speaking to BBC Sport in a wide-ranging interview to be broadcast during Football Focus on Saturday (12:00 BST on BBC One), De Bruyne said City "will never have a season like last year" as they attempt to become the first Premier League champions since 2009 to retain the title.
After City published news of De Bruyne's injury, the player was pictured wearing a brace around his knee and walking with the aid of crutches at the premiere of an Amazon documentary series that follows the club throughout last season.