Visiting football fans told to stay away from town centre by Chorley Council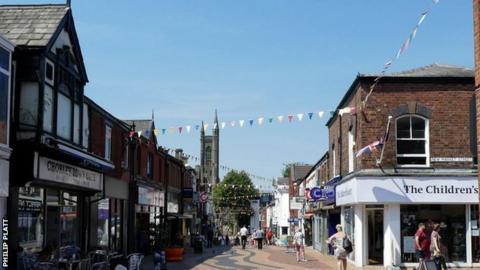 Football fans have been told to stay away from a Lancashire town where travelling supporters regularly stop off on their way to games.
Chorley Council wants to stop coaches of away fans from visiting its town centre, because it says they have been "intimidating" residents and shoppers.
A letter has been sent to clubs saying fans were "not welcome".
The Lancashire town is a stop-off for fans on their way to games at Bolton, Blackburn, Preston, Burnley and Wigan.
Chorley councillor Danny Gee, who sent the letter on behalf of the council's Town Centre Team, later clarified they were specifically targeting coach loads of fans and admitted the letter "could have been worded better".
Gee told BBC Radio 5 live that congregating coaches had become a "big problem".
He added the request had come from residents and business owners, who said their takings had dropped on match days.
The letter refers to a story from April, where hundreds of Wolves fans visited Chorley before an away game at Bolton, but said they had been "relatively good-natured".
It was widely criticised on social media and the Football Supporters' Federation (FSF) said it was seeking legal advice.
"Football fans being told they're not welcome in pubs is one thing but to be told formally by a council they're not welcome in a whole town?! Wow! I'm genuinely speechless at this," tweeted FSF caseworker Amanda Jacks.
Chorley FC, known as the Magpies, play in National League North, the sixth tier of English football.
Responding to a tweet the council sent congratulating Chorley on a win, Jacks replied: "You can't have your cake and eat it. You either welcome football in your town, or you don't."
Reiterating the council's position, Gee told the Phil Williams show it was not banning anyone and it was "powerless" because of a lack of police.
He added: "Fans are welcome, but we are not welcoming large amount of coaches with 100 and 200 fans, congregating outside pubs and disrupting the town centre.
"They stand outside pubs and intimidate shoppers and families. They arrive at 12pm and leave at 2.30pm - by that time most of the shoppers have left."
In a statement, the council added: "If the clubs themselves see fit to stop away fans entering some of their local pubs and don't sell alcohol in the ground why should that perceived problem be passed on to our town centre to deal with?
"As we stated in the letter we have done a lot of work and invested a lot of time and money into the town centre and we don't want Saturdays, which are one of the busiest days for traders, to be affected by people put off by football fans causing anti-social behaviour."