Brexit could have 'hugely damaging' effect on football clubs, say chairmen
Last updated on .From the section Premier League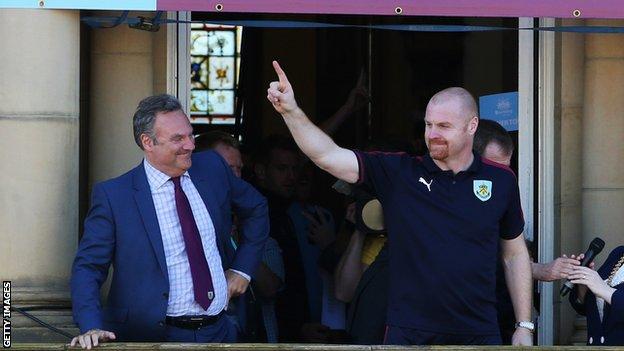 Brexit could be "hugely damaging" to English football, claim two chairmen.
Burnley chairman Mike Garlick says uncertainty over a deal with the European Union is already making it harder for clubs to sign players.
Stoke chairman Peter Coates added that the Premier League could be hit by freedom-of-movement restrictions.
"The destructive Brexit path being pursued by the government threatens to have a hugely damaging effect on clubs across the country," said Garlick.
Speaking to the People's Vote campaign, he added: "It threatens to make the widening inequality gap in our top division even worse.
"The hit to the value of the pound against the euro, largely caused by Brexit uncertainty, is already making it harder for clubs to sign players.
"And ending freedom of movement will make it much more difficult for teams to attract the right talent, if the government brings in more restrictive conditions for work visas for players from Europe."
Voters in Burnley and Stoke both backed Britain's exit from the EU - 67% of voters in Burnley said they wanted to leave, while the figure was 69% in Stoke.
In a letter released on Wednesday responding to questions over freedom of movement, Sport Minister Tracey Crouch said the government "absolutely recognises the value of sport to the UK" and "is determined to ensure that our sport sector continues to flourish".
Currently, players from the EU are allowed to play professional football in England as part of freedom-of-movement rules, while those from outside the EU need work permits.
The government is in negotiations with the EU over an agreement on the future relationship between the two - if negotiations fail, it could mean a "no deal" Brexit, which may jeopardise those freedom-of-movement rules.
Crouch added that the government's white paper - which outlines its position on Brexit - sets out its ambition to "negotiate a framework for mobility" that will end free movement, but enable people to continue to travel in Europe.
Stoke chairman Coates, whose family's Bet365 Group contributed £250,000 to the Remain campaign before the 2016 referendum, said he wanted the best for the Championship club but that "it's hard to seed how a botched Brexit will help".
"The negative consequences are plain for all to see," he added.
"The fall in the value of the pound that we've already seen, as well as the risk to our country's economic prosperity, cannot be brushed under the carpet.
"Depending on the Brexit deal, the Premier League, one of our country's success stories, could be damaged by freedom-of-movement restrictions. This could also affect the Championship.
"If this goes badly, it will be places like Stoke that suffer the most."