Claudio Marchisio: Juventus association ends after 25 years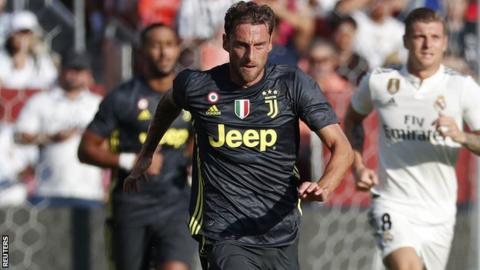 Italy midfielder Claudio Marchisio has left Juventus, ending a 25-year association with the club.
Both parties agreed to the termination of the 32-year-old's contract, which was due to expire in 2020.
"It will be a pleasure to keep following him, whichever shirt he will wear in the future," said Juventus in a tribute to the player on their website.
Marchisio played 389 times for the Bianconeri, winning seven league titles and four Coppas Italia.
The Turin-born player, who suffered a serious knee injury in April 2016 which ruled him out for six months, made 20 appearances last season.
In a tweet, accompanied with an image of him as a young player, Marchisio said: "I can't stop looking at this photograph and the stripes on which I wrote my life as a man and a footballer.
"I love this shirt to the point that, despite everything, I am convinced that the good of the team comes first. All the time."
Juventus added: "Twenty-five years have passed since Claudio put on the black and white shirt for the very first time. He was aged just seven with a mad desire to play for his hometown club and a head full of dreams.
"His dream back then, as he has so often retold, was to wear the very same shirt in front of thousands of fans, fighting for the most coveted trophies that the beautiful game has to offer."