Gus Poyet: Bordeaux suspend ex-Brighton boss after criticism of player sale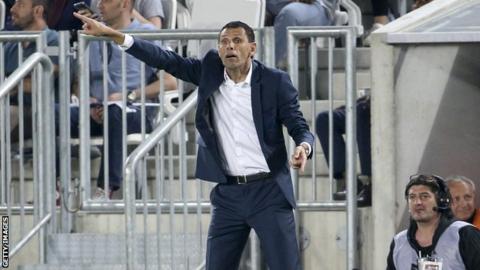 Gus Poyet has been suspended for a week by Bordeaux after his criticism of the club about the sale of a key striker.
The former Brighton boss said the club were a "disgrace" for selling striker Gaetan Laborde to Ligue 1 rivals Montpellier without his permission.
The 50-year-old had threatened to resign after Thursday's Europa League win over Mariupol.
He said: "I'm not happy. It's my worst day at this club. I asked not to let him leave until we bring in a player."
The ex-Chelsea midfielder, who joined the French club last January, added: "I will make a decision. I don't know if this will be the end for me [at Bordeaux]."
Stephane Martin, the club's president, said on Friday that there had been "tension" during the current transfer window and that Poyet thought he was "the boss of the club".
Martin added: "We think he overstepped the mark in Thursday's post-match press conference so the club took this decision.
"The start of the transfer window brought some tension. But it is a surprise after a win to have such a violent outburst, so we took the action that, in my opinion, had to be taken.
"There was behaviour where he thought he was the boss of the club. That's not the case - I'm the boss at the club with the owners and the shareholders."
Martin said after a week of suspension both the club and Poyet will discuss the issue.
Poyet was also suspended by Brighton in 2013 for an alleged breach of contract. He was consequently fired by the Seagulls, and learnt the news while working on a live BBC Match of the Day programme.