Jonjo Shelvey: I have grown up at Newcastle with psychologist's help
Last updated on .From the section Newcastle
Newcastle midfielder Jonjo Shelvey says he knew it was time to "grow up" and speaking to a psychologist has helped him curb his temper on the pitch.
The England international has been sent off four times and received 28 yellow cards in his career.
However, Shelvey has been only booked once in his past 19 matches in all competitions.
"I'm 26 years of age and it was time to mature and grow up. I feel that I have now," Shelvey told BBC Football Focus.
"Going back two or three years ago, when you get called a bald whatever and get booed every time you touch the ball, you end up smashing someone.
"Now I see it as a compliment when fans boo me because they know I can hurt them on the football pitch, and I try to do it in that way."
Shelvey's most recent sending-off came against Everton in December 2017.
"I'm the same way my dad was on a football pitch. It stems down to wanting to win so much," he said.
"As soon as I step over that white line it's that desire to be a winner. It took me a long time to learn there are ways to win a football match.
"I spent a bit of time with a psychologist - I still do. I feel that that has helped. He gives you little pointers that if you do feel you're losing your head."
'I should have three times as many England caps'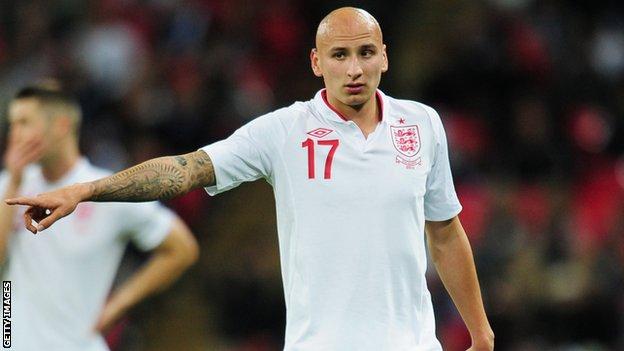 Shelvey acknowledged aspects of his career - particularly at international level - have not quite panned out as he had hoped.
The former Charlton, Liverpool and Swansea midfielder was not included in Gareth Southgate's squad which reached the semi-finals of the World Cup in Russia this summer.
"I feel I could have achieved a hell of a lot more than I have," said Shelvey.
"I have got six England caps and feel I should have double or maybe even treble that.
"I have made bad decisions in the past. But that's part of growing up and learning."
Former England internationals and BBC pundits Alan Shearer and Chris Waddle are among those to have talked up Shelvey's England prospects in the past.
"I must be doing something right," Shelvey said. "But I have to keep my name in people's mouths for a good reason.
"I don't want to give people an excuse to say 'he's not disciplined enough, he's not fit enough'."