'Nine-week' drought leads to Elgin v Cowdenbeath postponement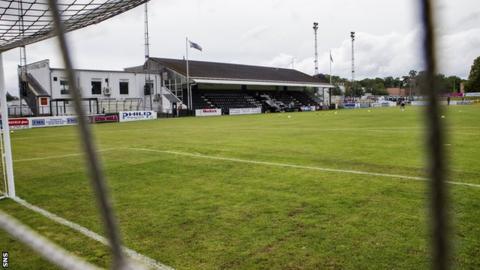 Elgin City's match with Cowdenbeath has been called off because of a nine-week drought drying out a section of the Borough Briggs pitch.
The League Two club announced an hour before kick-off the game would not go ahead after referee Gavin Ross was unhappy with a corner of the surface.
Elgin City chairman Graham Tatters says that a lack of rain in the Moray town is to blame.
"It's a nightmare as people are here for the game," he told BBC Scotland.
"It's an issue with the top-left corner of the pitch. It has been starved of water with no rain in nine weeks.
"There's no real growth. The grass there is going brown and there's a bit of gravel left from sand that had been put down.
"I can do many things, but I can't make it rain."
Visiting supporters would have travelled a 340-mile round trip for the game.
Elgin are due to host Stirling Albion next Saturday, and Tatters added: "It's a worry.
"We haven't had a problem with the games on it this season, but the referee has made his decision."
Elgin have played three home games so far this season, their most recent a Challenge Cup tie against Arbroath on 15 August.