Steven Gerrard: Rangers boss says plastic pitches should not be allowed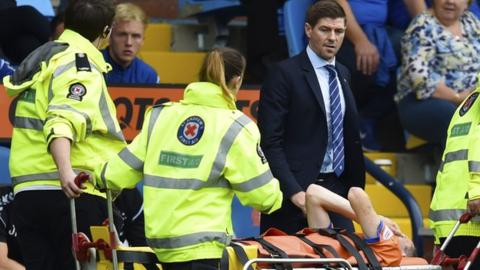 Artificial pitches should not be allowed in elite football, said Rangers manager Steven Gerrard, after he lost winger Jamie Murphy to a knee injury on Kilmarnock's synthetic surface.
The winger appeared to twist his left knee during the first half of the 3-1 League Cup last-16 win at Rugby Park.
Gerrard said Murphy is "very low, down and upset" and fears he will "be out for a long time".
"If you ask Jamie right now he'll say it was a pitch incident," Gerrard said.
"I'm not here to disrespect Kilmarnock and their playing facilities. I know it helps support the running of their club. But my opinion is elite football shouldn't have any plastic pitches.
"I think for every club worldwide it's safer to have a grass pitch. But I don't want to dive in too quick, we'll wait and see what the examinations say but we're all fearing the worst."
Murphy, 28, seems almost certain to miss the first leg of Rangers Europa League play-off against Russian side FC Ufa on Thursday.
'People get injuries on grass too' - analysis
Former Rangers director of football Gordon Smith on Sportsound
I played when there were no astro-turf pitches and there were a lot of injuries then as well. People got the same injuries - knee injuries, twisted ankles - and on any kind of surface, not just astro-turf.
Former Rangers forward Steven Thompson on Sportsound
I have no time for astro-turf pitches whatsoever. When you go to plant your foot, it's different. Your feet can stick in the astro-turf. It certainly looked like, when he did plant his foot, he jolted his knee.
Morelos is 'big weapon' for Rangers
The injury to Murphy took a little of the sheen off a fine performance by Rangers, who showed no signs of tiredness despite a taxing Europa League engagement in Maribor on Thursday.
Striker Alfredo Morelos scored a hat trick to take his tally for the season to six, just days after the Ibrox club rejected a £3.75m offer from Bordeaux for him.
Gerrard said any offer would have to "blow Rangers out of the water" and that he wanted the 22-year-old to sign a new deal. And he was unequivocal about the Colombian's worth again on Sunday.
"Alfredo's been excellent on and off the pitch," he said. "Again he shows his quality with three incredible goals and he could have had more. Long may that continue because he's a big weapon for us."
Gerrard's Rangers team are unbeaten in nine matches so far this season, and the former Liverpool captain believes the standards were set before a ball was kicked.
"We made it quite clear that we wanted them as fit as they could get them," he said. "We wanted them to improve the shapes, the bodyweight, every aspect.
"If we're going to be successful we're going to have to face an awful lot of games and the only way you can do that is to be in the best shape you can be in."