Manchester United: Is Jose Mourinho's third-season syndrome a myth or is it happening again?
Last updated on .From the section Man Utd741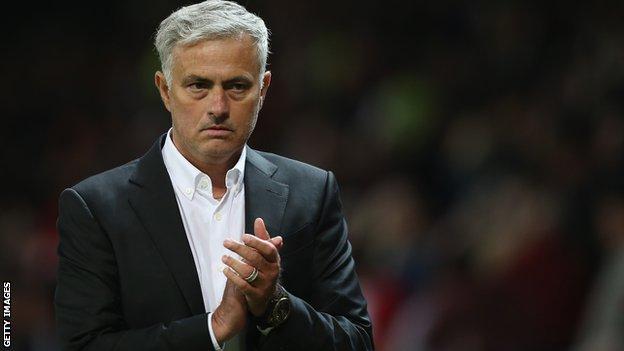 *This article was originally published on 21 August 2018 and was edited and re-published on 30 September 2018.
Two Champions Leagues, eight domestic titles and 15 cup triumphs. Jose Mourinho's sides know how to win - so why is it the Portuguese tends to bow out after three seasons at a club?
Only once has Mourinho made it into a fourth campaign, only to leave Chelsea before Christmas during his first spell at Stamford Bridge.
The 55-year-old is in his third season as Manchester United manager, but is overseeing the club's worst start to a league season in 29 years.
Saturday's 3-1 defeat at West Ham followed Tuesday's Carabao Cup exit to Championship side Derby.
Post-match, Mourinho told BBC Radio 5 live he was a "brave" and "experienced" man who will "fight hard".
So what does lead to Mourinho heading for the exit after season three? And do his sides actually perform worse than the previous two campaigns? BBC Sport examines the evidence.
Built for short-term success?
Having begun his managerial career with a short stint at Benfica, Mourinho enjoyed a successful half-season with Uniao de Leiria that led to Porto appointing the then 39-year-old in January 2002.
Porto:
2001-02:

Climbed from fifth in the league to finish third after taking over in January

2002-03:

Primeira Liga champions, Uefa Cup winners, Portuguese Cup winners

2003-04:

Primeira Liga champions, Champions League winners, Portuguese Super Cup winners,

joins Chelsea
Chelsea:
2004-05:

Premier League champions, League Cup winners, Champions League semi-finalists

2005-06:

Premier League champions, Community Shield winners

2006-07:

Premier League runners-up, FA Cup winners, League Cup winners, Champions League semi-finalists

2007-08: Leaves club by mutual consent in September
Inter Milan:
2008-09:

Serie A champions, Supercoppa Italiana winners

2009-10:

Serie A champions, Champions League winners, Coppa Italia winners,

joins Real Madrid
Real Madrid:
2010-11:

Copa del Rey champions, La Liga runners-up, Champions League semi-finalists

2011-12:

La Liga champions, Champions League semi-finalists

2012-13:

Supercopa de Espana winners, Champions League semi-finalists, Copa del Rey runners-up.

Leaves Real by mutual consent
Chelsea:
2013-14:

Third in Premier League, Champions League semi-finalists

2014-15:

Premier League champions, League Cup winners

2015-16: Leaves Chelsea in December
Manchester United:
2016-17:

Europa League champions, League Cup winners, sixth in Premier League

2017-18:

Premier League runners-up, FA Cup runners-up

2018-19:

United are 10th after seven games, with three defeats already, and are out of the Carabao Cup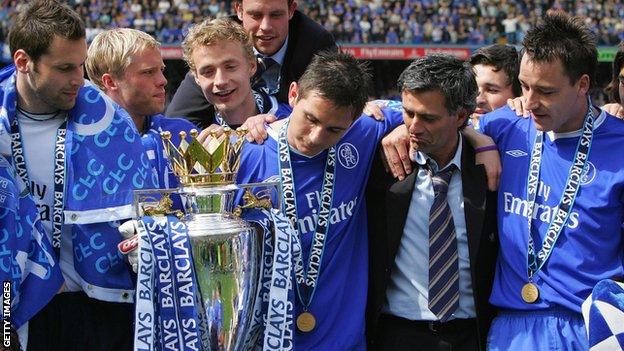 The form book
Mourinho's league win percentage by season

Season one

Season two

Season three

Season four

Porto

73.3% (15 games)

79.4% (86 points)

73.5% (82 points)

-

Chelsea

76.3% (95 points)

76.3% (91 points)

63.2% (83 points)

50% (after six games)

Inter

65.7 % (84 points)

63.2% (82 points)

-

-

Real Madrid

76.3% (92 points)

84.2% (100 points)

68.4% (85 points)

-

Chelsea

65.7% (85 points)

68.4% (87 points)

25% (after 16 games)

-

Man Utd

47.3% (69 points)

65.7% (81 points)

42.8% (after seven games)

-
How does it end?
Leaving Porto on a high: Two-and-a-half seasons after taking charge, Mourinho left Porto after delivering the Champions League as part of a remarkable treble.
Chelsea, part one: Having won both domestic cups and finished second in the league in his third season, a 1-1 September draw at home to Rosenberg in the Champions League saw his reign end in the fourth season.
Inter: Mourinho left after two seasons to take up role at Real Madrid, ending with a historic treble including the Champions League - again.
Runners-up at Real Madrid: With two games left of the season, it was announced Mourinho would leave Real Madrid. At the time, his side trailed Barcelona by 13 points, had lost the Spanish Cup final to Atletico Madrid, and exited the Champions League at the semi-final stage.
Chelsea, part two: Sixteen league games, just four wins and languishing one point above the relegation zone - Mourinho's tenure was up at Chelsea for a second time, just seven months after he had delivered them a Premier League title. He remains the most successful manager in the club's history.
Friction and fallouts - who's to blame?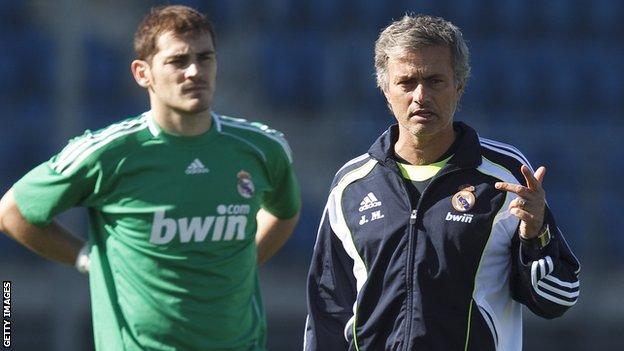 Mourinho's departures from both Chelsea, twice, and Real Madrid have followed high-profile fallouts and fractious relationships with both club officials and players.
Do things always come to a head for Mourinho during his third season?
Porto: Left the club a hero.
Chelsea part one: Mourinho's relationship with Blues owner Roman Abramovich became increasingly strained.
After reportedly being unhappy over having a lack of funds to sign players and the arrival of director of football Avram Grant, Mourinho was eventually replaced by the Israeli.
Inter: "If you don't coach Real Madrid then you will always have a gap in your career", said Mourinho in announcing his Inter departure after two seasons.
Real Madrid: "Nobody's been sacked," said Real Madrid president Florentino Perez when announcing Mourinho would leave the Bernabeu, but the announcement followed a string of public arguments with some of the club's key players:
Mourinho drops iconic goalkeeper and club captain Iker Casillas, who alongside defender Sergio Ramos is then forced to

issue a statement

denying they threatened to be transferred if the manager was not sacked.

Portugal defender Pepe says he regrets the handling of Casillas, with Mourinho responding by saying the player's problem was "Raphael Varane" - a rival for Pepe's place in the team.

Club chairman Perez calls a news conference to address the reports, also denying rumours of in-fighting between Mourinho and club directors.
Chelsea part two: The club's medics felt the wrath of Mourinho in his last season at Stamford Bridge. The Portuguese called them "impulsive and naive" for running on to treat Eden Hazard during a draw against Swansea. Eva Carneiro and Jon Fearn saw their positions downgraded.
Carneiro left the club in the September, eventually settling a dismissal claim against the club the following year.
Then, after a defeat by Leicester City that would prove his last game in charge, Mourinho called out his players.
"I'm frustrated with the difference between what they do in training and what they do in matches. I don't think in this moment they can feel they are top players or they can feel they are superstars."
Mourinho's 'mini wars' this season
The Portuguese manager's third season at Old Trafford has already been littered with disagreements similar to his fall-outs elsewhere.
The counter-argument...
Bar his second spell at Chelsea, when he departed before Christmas, Mourinho has delivered silverware in each of the third seasons he has had at a club.
At Porto this was a treble that put the charismatic Portuguese boss on the map - an achievement he later repeated at Inter Milan; while during his first spell at Chelsea Mourinho's side won both domestic cups and at Real Madrid he won the Spanish Super Cup in his final season.
But what would be deemed a season of success for many sides is regarded as a minimum requirement at the calibre of clubs Mourinho manages.
He set the bar high at Chelsea, winning back-to-back Premier League titles, but was unable to deliver the Champions League title Blues owner Abramovich so craved.
The Portuguese also failed to achieve European success at Real Madrid, while finishing adrift of Barcelona in the La Liga and lost in the Copa del Rey final to rivals Atletico Madrid before his departure.
Mourinho won the Europa League and the League Cup in season one, and described second place in the Premier League last season as "one of my greatest achievements".
But adrift in the Premier League and out of the Carabao Cup already, will third season syndrome strike again?