Scottish women football fans urged to raise concerns in new SFSA survey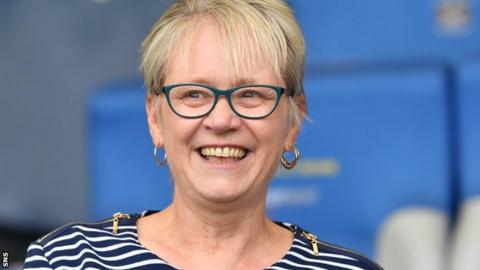 Female fans are to be asked how safe they feel attending matches in Scotland in a survey launched by the Scottish Football Supporters Association (SFSA).
Around 9,000 women regularly attend Scottish games and the SFSA wants to better understand their experiences.
Kilmarnock director Cathy Jamieson, a former MSP and Scottish Minister for Justice, has urged women to take part, especially if they have safety fears.
"There are times when people could feel intimidated," she told Radio Scotland.
"We want to hear if that's the case, and also want to understand the whole process of how they get in and out of matches, how do they travel and who with, is it easy? What are the barriers?
"Also what is the atmosphere at football like? Is it welcoming to all sections of the community? We want to hear if there are particular issues from women that would make them feel less likely to go to football in Scotland.
"At the end of the day, fans are the life-blood of Scottish football. Without the fans, football doesn't exist."
The online survey is being launched at Hampden Park on Tuesday and will run until 16 September.
"It is important we hear from every section of the community and this particular survey is focusing on women," Jamieson added.
"I wouldn't say Scottish football has neglected female fans. I think it just hasn't woken up to the fact there are so many female fans out there.
"With 8% of the fan base regularly attending games in Scotland being women, this is important and timely.
"We want to find out what female fans think about the game in general, what their experiences are, and what they hope to see in future as the game develops."
Thistle poll
Earlier this year Partick Thistle published the results of their own survey with a 12% increase in female supporters over the last three years.
The club received more than 400 responses, almost half of those who regularly attend, suggesting improvements were needed to catering, wifi and more pre-match family activities.
"Female fans want the same as male fans, just in a different order of priority," said Thistle chairman, Jacqui Low.
"Security and safety at a game for women seem to be the number one issue, and in the main our fans feel safe to go to games on their own, with friends or take the kids.
"Beyond that a decent matchday experience - decent toilets, good food and for their team to win."
She added the barriers for women attending were "complex" and different for women at various "ages and stages" of their lives.
Speaking at the launch, Low explained the toughest challenge for clubs is the game itself.
"The biggest obstacle is Scottish football - we don't portray ourselves as we could and should.
"We need to show what coming to football is like. It's not like 30 years ago, it's really different and I would encourage women to give it a go."