Periods and football: Meet the fans campaigning for free sanitary products at stadiums
By Katie Falkingham
BBC Sport
Last updated on .From the section Football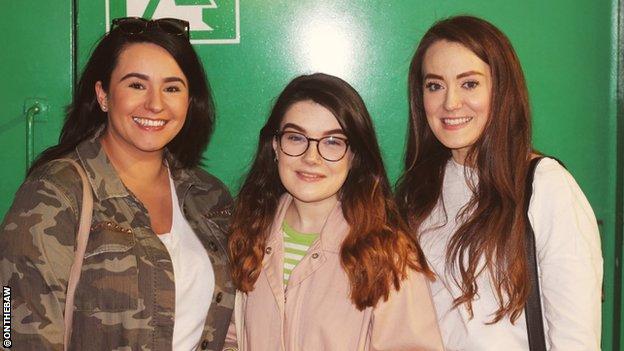 Periods and football are two things rarely, if ever, mentioned in the same sentence.
Still a taboo subject, many people will still ask - in 2018 - what periods have got to do with the sport.
But with more than a quarter of Premier League fans women, it has never been more relevant than it is now.
So, with that in mind, meet Orlaith Duffy, Erin Slaven and Mikaela McKinley - three Celtic fans behind the 'On The Ball' campaign to get free sanitary products in football grounds around the UK.
"I was at the football at the start of the year and noticed that sanitary products are locked up in machines, sanitary bins are not in every toilet, and it just isn't a priority for football clubs," 21-year-old politics student Erin tells BBC Sport.
"One of our reasons for starting the campaign was to increase the visibility of female fans, because we are second on the agenda in football grounds.
"That's not to say we're made to feel unwelcome, but we aren't a priority to football clubs and we're really conscious of that."
Starting earlier this year with their own club, the On The Ball trio went to Celtic Park to ask them to provide free sanitary products at the stadium.
"We knew we had to be confident and not be too intimidated as three young women going into a male-dominated sphere," Erin says.
They were successful, and six more clubs in both Scottish and English football have followed suit including Kilmarnock, Tranmere Rovers and Barnsley.
On Saturday, their campaign went viral on social media when one football fan tweeted a picture of a basket full of sanitary towels and tampons at the latter's Oakwell stadium.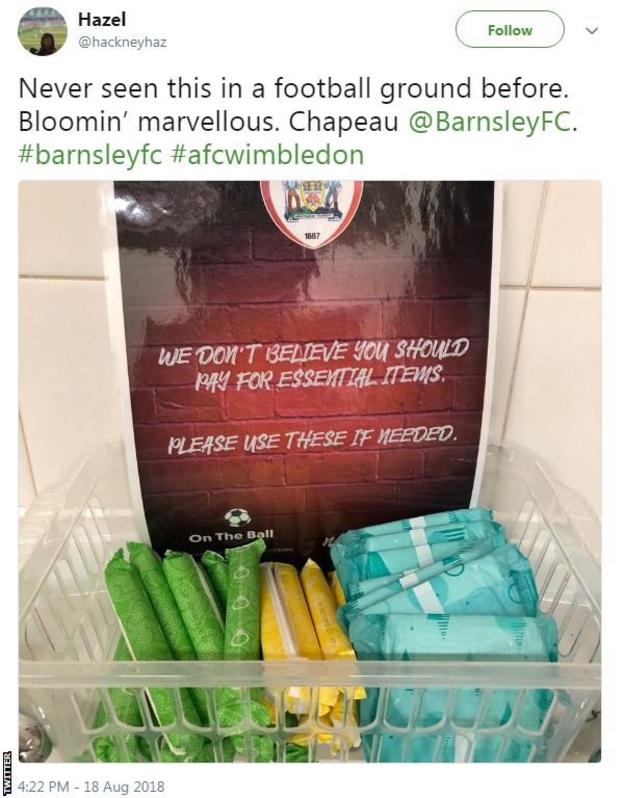 But why all the fuss?
According to charity Bloody Good Period, the average lifetime cost of sanitary products is approximately £4,800.
In addition, a 2017 survey of 1,000 14- to 21-year-olds by Plan International UK found that one in 10 women and girls have been unable to afford sanitary products, while 12% have had to improvise their sanitary wear.
Yet, as Erin points out, "people aren't going around paying for toilet roll or soap in public toilets".
She adds: "One of the most common arguments we get is that if people can afford a match ticket, they can afford a tampon.
"That's easily quashed. At Celtic, and I imagine at a lot of other clubs, a lot of tickets are given to charities so young people come who haven't paid for their tickets or their transport, so why should they have to pay for their period products?
"Young girls often come to games with male relatives, and it is difficult for them to say 'Dad can I have £2 for the machine?'"
'Who are these silly young girls?'
The reaction to On The Ball's campaign has been, as expected, mixed - but the three women say there has been a "real change".
After Celtic agreed to provide free products, the trio decided to "pursue the whole league", but admit they never predicted it would have this much of a "knock-on effect".
Since Saturday's social media frenzy, several clubs around the UK have been in touch with Erin, Orlaith and Mikaela to express their interest in providing free sanitary products at their own grounds.
"At first, I think people thought 'who are these silly young girls?' They thought we didn't even like Celtic, that we were just crazy feminists with our own agenda," Erin says.
"There was still that medieval mindset that reared its head now and again that football is a men's sport and there was no place for it. It is a male-dominated sport and 30 years ago, the idea that we would be talking about periods was unthinkable.
"It was really hard, especially for supporters who were that bit older, to understand why this had relevance to Celtic and to football.
"Celtic is such a big influence, we're a very big club in a very big stadium with a big reputation, and we have always said that with that comes a responsibility to lead by example.
"It felt only right to do this through football, to bring about this kind of change."