Arise, Sir Gareth! The world according to online football petitions
Last updated on .From the section Football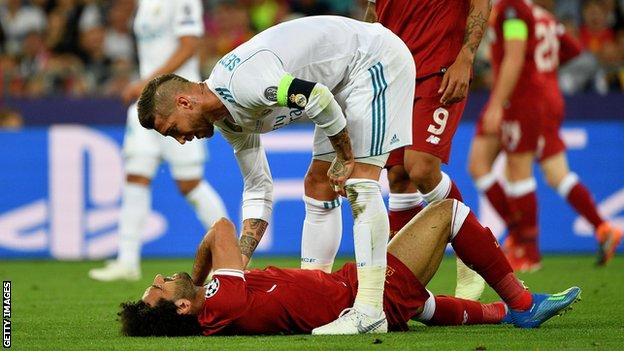 What do Gareth Southgate, Mike Dean, Sergio Ramos and that football you kicked into your neighbour's back garden all have in common?
Each has been the subject of an online petition - some racking up a handful of responses while others, like those calling for Real Madrid defender Ramos to be punished for a tackle that forced Liverpool's Mohamed Salah out of the Champions League final, have had hundreds of thousands of interactions.
Lending your virtual signature to a campaign for change is the new way of venting frustration at perceived sporting wrongdoing, it seems.
Nothing is off limits in the world of football petitions. According to one, England's World Cup quarter-final defeat by Argentina in 1986 should be replayed - this time using VAR.
Back in the present, and Tottenham are the latest club to feel the wrath of an online army of justice-seekers, with a petition set up last week calling for the Premier League club to be docked points over their stadium delay garnering more than 16,000 supporters.
The petition, aiming to reach Parliament, urges browsers to sign and see Tottenham "punished accordingly for their actions".
Spurs 'leading fans up garden path'
Tottenham have "continued to lead their own fans and the public up the garden path" about the club's new 62,062-seat arena, which was initially expected to be ready to host the club's Premier League home game against Liverpool on 15 September, says the campaign on Change.org.
Having already agreed to play Fulham at Wembley on the first day of the season, Spurs said the delay in entering the new ground is because of "issues with the critical safety systems".
They will now also host Cardiff at the national stadium on 6 October, while a venue for the north London outfit's home fixture against Manchester City on 28 October is still to be confirmed.
It is the "element of uncertainty" that has riled one disgruntled football fan enough to spark a petition and more than 16,000 others to sign it
"A smaller club would receive a points deduction, so what makes Tottenham an exception to this?" it adds.
'Replay the Champions League final'
A petition calling for "measures to be taken against Ramos by Fifa and Uefa" gained serious traction. More than half a million people have signed it.
The petition's argument is that Ramos intentionally injured Liverpool forward Salah and "instead of winning matches fairly" he "uses tricks that defy the spirit of the game and fair play".
The incident in the Champions League final went unpunished by the referee and Ramos later said an initial "arm grab" by Salah led to the Egyptian's injury.
It was not the only campaign targeting Ramos - an Egyptian lawyer also filed a lawsuit worth £874m for the "physical and psychological harm" caused to the people of Egypt.
If another petition, this time aimed at Parliament, had got its way, the Champions League final would have been replayed without the Real Madrid defender (and presumably without Salah too, as he was injured).
It was rejected.
"Bloody hell, they have given this Salah thing a lot of attention," Ramos said in the aftermath.
Sir Gareth & a Pickford bank holiday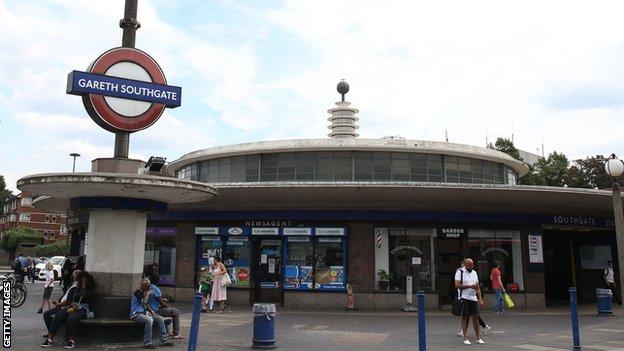 Remember when football was coming home and England were going to win the World Cup?
Three Lions fever captured the nation, and also the imagination of petitioners.
It began before the tournament, with petitions calling for certain players to be picked for the England squad - Glenn Murray, Jonjo Shelvey, James Milner (with even a specific request for the Liverpool man to play in centre midfield) - one for England's training kit to be used as their official home kit, and another for Arsene Wenger to be named the national team's boss.
As England got off to a winning start, employees at a well-known coffee shop put their signatures to a petition to be allowed to clock off work early to watch the knockout games.
Then, once it looked more and more likely that England were going to win the World Cup for the first time since 1966, there were multiple online campaigns for the Monday after the final to be made a national holiday.
Manager Gareth Southgate (having shrugged off Wenger to hold on to his job) would become a Sir - perhaps that Monday should be called 'Southgate Day', some suggested? - as would Golden Boot winner Harry Kane, while goalkeeper Jordan Pickford's birthday (7 March, the petition clarifies) should also become a bank holiday following his penalty shootout heroics against Colombia.
But England didn't win the World Cup, losing instead in the semi-finals to Croatia. A petition for the game to be replayed was rejected.
The serious side...
So does starting a petition actually make a difference? If you're one of the 106,611 people who signed a campaign on Change.org to stop Mike Dean refereeing another Arsenal game, probably not.
The website dubbed "the world's platform for change" allows any person or organisation to begin a petition about any topic, with the idea being to catch the attention of and engage with decision-makers.
Sporting petitioners have also hijacked the official UK Government website.
But while some campaigns, like making it legal to keep footballs kicked into your garden, are more tongue-in-cheek or wishful thinking, others have raised issues to be discussed in Parliament.
Any petition that meets regulations and draws 100,000 signatures will be considered for debate, such as allowing Premier League and Championship football clubs to introduce safe standing.
"Due process must be followed to ensure the safety of fans now and in the future," sports minister Tracey Crouch said during the debate.
Now about that 'Hand of God' goal...