Police Scotland fear death from pyrotechnics in Scottish football

By Phil Goodlad
BBC Scotland
Last updated on .From the section Scottish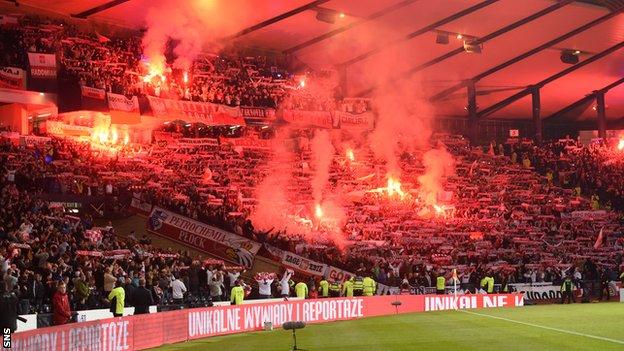 It is "only a matter of time" before someone is killed by a pyrotechnic at a Scottish football match, one of the country's leading policemen has warned.
Police Scotland will now "consider any tactic" to make grounds safer and will use sniffer dogs at games to detect flares and smoke bombs, said assistant chief constable Bernard Higgins.
Dogs were used at the last meeting of Celtic and Rangers in April.
"These things [pyrotechnics] can burn up to 1,000 degrees," Higgins said.
Speaking to BBC Scotland, he added: "It's only a matter of time before somebody gets seriously injured or, heaven forbid, killed.
"Uefa thinks pyrotechnics and organised violence are the biggest threats to football across Europe. And that's my view when it comes to the domestic game."
Police Scotland are increasingly concerned at the incidences of flares, fireworks and smoke bombs being set off at Scottish stadiums.
Hibs expect to hear later on Thursday what their Uefa punishment will be for fans setting off fireworks during the 1-1 draw with Asteras Tripolis earlier in August.
Celtic have been fined in excess of £60,000 by Uefa over the past six years after supporters let off fireworks and flares during European matches.
And Rangers had to pay for repairs to Falkirk's pitch in 2013 after it was scorched by a flare thrown by their fans during a Scottish Cup tie.
Higgins disputes suggestions authorities have failed to tackle the issue properly and says police cannot "arrest our way out of this situation".
"I think to use the word 'fail' is harsh," he said. "Safety and security at football is unrecognisable from when I first started policing matches in 1988.
"The fundamental basis is people need to take responsibility for their actions. If they bring these items in then they are putting lots of people at risk.
"Police officers don't search at turnstiles - that's for the stewards - but it may be that we need to look at that. It may be we have to do more targeted searches.
"We will also deploy our explosives dogs to walk up and down queues to give us an indication of anybody that may be carrying something they shouldn't."
The Scottish Football Supporters Association say they acknowledge a "very small minority" of fans use pyrotechnics, and appreciate the "inherent dangers".
However, they are keen to discuss with the police different approaches to the issue in other countries.