Cheltenham Town: Gary Johnson 'should have had 10 games', says shareholder Paul Baker
By Ali Durden
Sports Editor, BBC Points West
Last updated on .From the section Cheltenham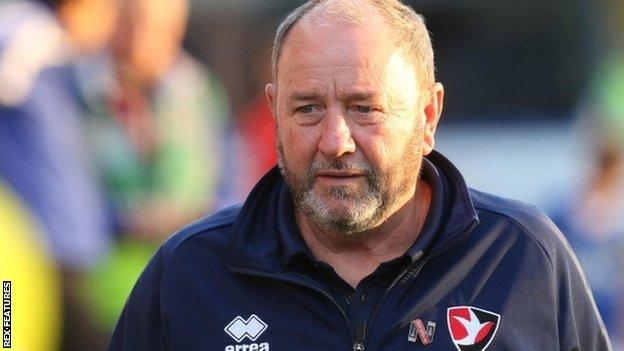 Cheltenham Town's sacking of manager Gary Johnson after four games of the League Two season has been criticised by their former chairman, Paul Baker.
Johnson, 62, was dismissed on Tuesday shortly after a draw at Macclesfield.
New chairman Andy Wilcox told BBC Points West the dismissal "was based purely on results" and the board were unanimous in their decision.
"It was a very difficult decision to make. Gary had done a huge amount for this club. We were worried for the future," Wilcox said.
"The board met with Gary on Saturday but we were not unanimous in terminating his contract then, but after Tuesday's match everyone was in agreement that it was the right time to change."
Timing of sacking was 'crass' - Baker
Johnson led Cheltenham to promotion back into the English Football League in 2016 before finishing 21st and 17th in the two subsequent seasons in League Two.
The Robins lost their opening three league games of this season without scoring a goal, before picking up their first point and goal of the campaign at Macclesfield on Tuesday.
Baker, who appointed Johnson in 2015, said: "I would not have sacked him at this time. You need to give him at least 10 games.
"Yes, we have had a couple of disappointing seasons, but we are four games in, for goodness sake. He deserves a bit more than that.
"What was crass was not necessarily the decision but the way it was reached, the timing of it and the delivery of it. Poor old Gary had to travel back on the coach for four and a half hours, having just been sacked.
"The thing could have been handled better, given what Gary's given to this club. It is tricky for the board, I accept that, but I would have come to a different conclusion."
Wilcox added that the board have already received applications for the managerial vacancy but "do not want to rush" into replacing Johnson.
Assistant manager Russell Milton has been placed in temporary charge and Wilcox says he has the board's "full support", adding: "The important thing is that we get him a striker before the deadline closes."
Former Brentford manager Lee Carsley is the bookmakers' favourite for the role, but while Wilcox says Carsley "is a great friend of mine who is helping us in the background", the BBC understands he is not likely to be a candidate.