Gary Rowett: Stoke City 'must earn back fans' trust' after winless start
Last updated on .From the section Stoke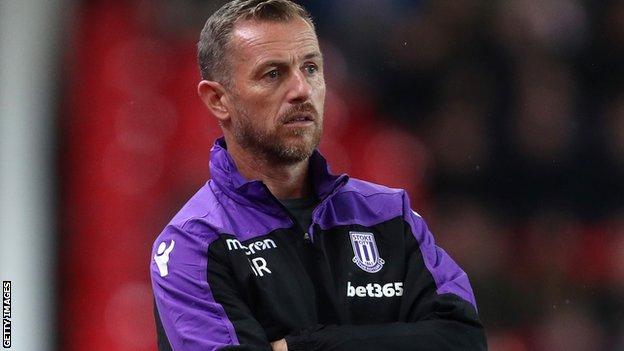 Stoke City must "earn back their fans' trust" having won just once since January, says manager Gary Rowett.
The Potters, who were relegated from the Premier League last term, are yet to win a match since ex-Birmingham and Derby boss Rowett took charge in May.
Their fourth Championship game of the 2018-19 season was a 3-0 home defeat by Wigan Athletic on Wednesday.
"I knew it would not be an easy job. We have to try to change the culture very quickly," Rowett told BBC Radio Stoke.
"I would say we have got to stick together as a club but, in all fairness, if you are a fan, you would be wavering on that a little bit at the moment, because you have not had any value for money for quite some time.
"What we have got to do is earn that trust back. We have got to start performing, stop talking about it and do it on the pitch."
Potters have had 'an eye-opener'
Some Stoke fans left the ground early in the second half on Wednesday, with their side 3-0 down inside 57 minutes.
The Potters were later reduced to 10 men when Everton loanee Ashley Williams was sent off for a second yellow card.
"It was like hot potato out there at times because nobody wanted to take responsibility," Rowett added.
"I don't think booing substitutions or players individually necessarily helps, but I can understand it and I can't really complain about it.
"I'm sure it's an eye-opener for the club because the feeling was that we had a lot of good Premier League players that the Championship surely would be a lot easier for. That's now proven to probably be not correct."
Stoke will face the only three sides they have beaten since October 2017 - West Bromwich Albion, Huddersfield and Swansea - in their next five games.
They are at home to Hull City on Saturday, before Tuesday's visit of top-flight Huddersfield in the Carabao Cup second round and then a league trip to West Bromwich Albion on 1 September.
Rowett plays down McClean-Butland row
Rowett played down reports in the Irish media that Stoke's Republic of Ireland international James McClean had been involved in a bust-up with goalkeeper Jack Butland in last night's Stoke game.
"I think they were both disappointed with each other," said Rowett, at his post-match press conference. "But I don't think it was anything more than that.
"I've seen far worse things than that in dressing-rooms over the years.
"When you are not winning games, everybody gets edgy and everybody gets a little frustrated.
"What we've got to do is to start taking collective responsibility for it and not starting fighting between ourselves."