John Souttar: Hearts' Scotland U21 defender 'has Australian granny' - Craig Levein
Last updated on .From the section Hearts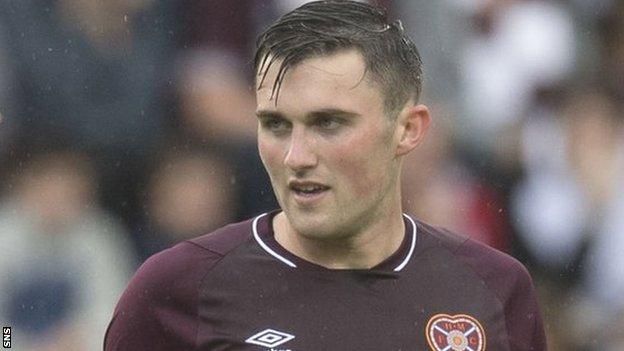 Hearts' John Souttar could choose to play for Australia rather than Scotland if he is overlooked by manager Alex McLeish, Craig Levein has hinted.
Souttar, 21, was named in the Scotland Under-21 squad this week for European Championship qualifiers against Andorra and the Netherlands next month.
But the defender may yet be included in McLeish's senior squad for forthcoming games against Belgium and Albania.
"He's got an Australian granny, you know? I'm being serious," Levein said.
"It's not my call though. I just know he's got an Australian granny, that's all.
"I'm not in any way, shape or form trying to tell anyone who to pick for the Scotland squad. I had enough people trying to tell me when I was the Scotland manager.
"I'm just pointing the fact out, that's all."
Souttar was poised to win a first cap under McLeish during the summer tour of Peru and Mexico but was forced to withdraw before departure through injury.
Asked if he thought the youngster, who played 36 games for Hearts last season and has started all seven of their games this term, was ready to challenge the likes of Aberdeen's Scott McKenna and Celtic's Jack Hendry for a place, former Scotland manager Levein added: "He has been for a while."
'It's not the first time I've been in this rodeo'
Meanwhile, Levein believes the money recouped from Kyle Lafferty's transfer to Rangers can be reinvested to make Hearts stronger.
The Tynecastle boss is hopeful Czech striker David Vanecek, who is due to arrive in January after signing a pre-contract, could still arrive this month from FK Teplice, but has other forward targets.
Levein also plans to recruit more defensive cover for injured skipper Christophe Berra, having already signed Burnley defender Jimmy Dunne on a six-month loan, before the 31 August transfer deadline.
"Everybody has got a price and I felt the price we got for Kyle was good, so it's a normal situation really," said Levein, who hinted other players could also depart before next Friday.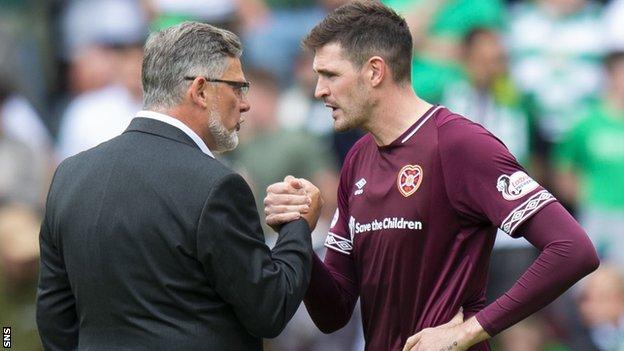 "I don't think it's any secret that Kyle wanted to go back to Rangers so for us it was just about getting the right price. It's not the first time I've been in this rodeo, so it's just normal.
"It doesn't seem like Teplice are willing to let David Vanecek go at this moment in time, so I have other things in mind to bring someone else in until David gets here in January.
"I don't want to go into too many details in this moment in time but I'm pretty sure within the next day or two if David is not coming, we'll have someone else.
"I'm confident when the window closes we'll be stronger than we are right at this minute in time."
'Souttar has started the season really well' - Analysis
Hearts forward Steven Naismith on Sportsound:
John is definitely much more mature now. I was surprised he was only 21 when I came in, because he has been around a while.
He is very level-headed, he wants to do well and probably of all the youngsters, he is the one who looks at the older pros and thinks 'I want a slice of that', 'why are you doing that?' and 'I want to do this extra'.
He has started the season really well. He is a good footballer and maybe he over-played when he was younger.
But he has cut that right out of his game now. It is defence first, but he is an extra man in attack when we have got comfortable possession.
Playing alongside Christophe [Berra] has helped him a lot. When he was younger John probably wasn't aggressive enough. He has changed that, and it is probably one of the biggest differences this season.