Mike Fondop: Hard work paying off for Wrexham striker
By Aled Williams
BBC Wales Sport
Last updated on .From the section Wrexham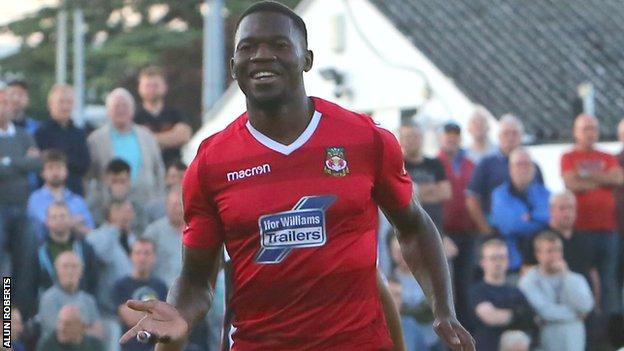 They like their cult heroes at Wrexham.
Billy Ashcroft, Dixie McNeil, Gary Bennett and Juan Ugarte are among the strikers who became firm favourites with the Racecourse faithful over the years.
Mike Fondop is the latest fans' favourite.
He's already made an impression with five goals in his first nine games and celebrating in his own inimitable way.
"He's a little bit different," Dragons manager Sam Ricketts said of the 24-year-old.
"He's got his own ways has Mike and the fans have certainly brought into him."
Ricketts, who took on his first managerial role when appointed by Wrexham in May, fought off competition from several clubs to sign Fondop in the summer.
'I've always loved challenges'
Fondop's path to Wrexham and professional football has seen him move to the UK from his native Cameroon, gain a first class honours degree and work his way up the non-league pyramid.
But hard work - academically and on the football field - is now paying off for Fondop as he bids to help Wrexham get back into the Football League
"It's not been easy the past couple of years," Fondop says of his time combining his full-time degree and part time football.
"I always knew life was about sacrifices, because if it was easy then everyone would be able to make it. When it's hard, that's when you know you're on the right path.
Fondop arrived in the UK in 2013 to study actuarial sciences at the University of Essex in Colchester.
"I've always wanted to be a professional football player but my parents wanted to me to get a degree so I could find a job after I retired from football," Fondop explained.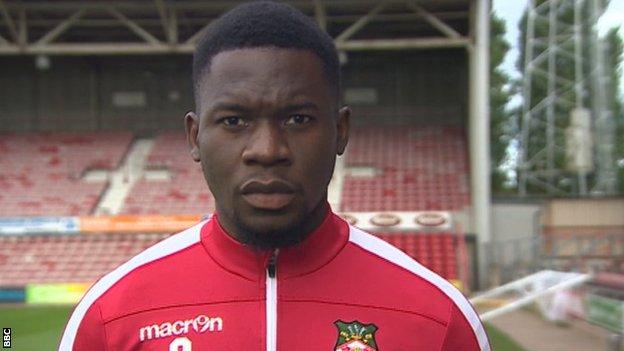 "Actuarial sciences is mostly financial based and I did it so I could become an actuary.
"An actuary is someone that uses mathematical and statistical methods to evaluate risk in insurance companies and financial institutions.
"It's among the highest paid jobs but it's not easy being an actuary - but I've always loved challenges."
Having graduated with first class honours in 2017, Fondop's next challenge was to establish himself in professional football after spells with Stanway Rovers, Whitehawk, Billericay and Oxford City.
Football League ambitions
After playing for Guiseley and FC Halifax Town last season, Fondop joined fellow National League club Wrexham in July on a two-year contract.
"This is the biggest club that I've been at," Fondop added.
"Wrexham is something else. It's a big club. They don't belong in this league - It's a club that belongs in the Football League.
"I've always wanted to play in the Football League and after speaking to the gaffer and telling me the ambitions of the club, I was interested.
"I thought to myself that it was possible we could do it and after the first couple of weeks training with the lads I knew there was a lot of quality here.
"It won't be easy with many clubs fighting for promotion but as the gaffer says, it's all about us, not the others. Let's focus on ourselves."
So far, so good for Fondop and his team mates with Wrexham third in the National League having lost only once so far this season.
And for a side who struggled for goals last season, Fondop has been a much needed addition to Wrexham's squad as they seek a return to the Football League after an 11-year absence.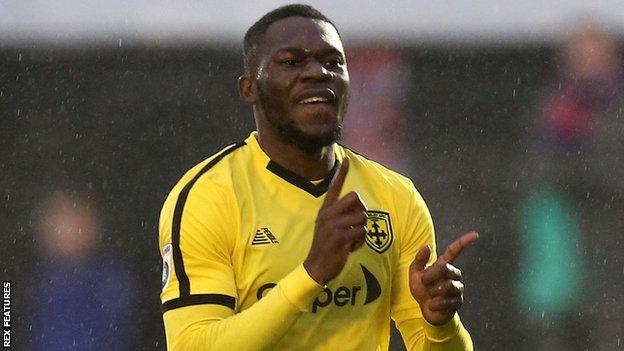 "I'm really enjoying it," Fondop said of the north Wales club's start to the new season.
"As a striker your main goal is to score goals and apart from that the gaffer wants me to get involved and hold the ball up front for the lads," he told BBC Radio Wales Sport.
"I'm glad I'm banging in the goals and I hope I can keep on doing it. Hopefully we can keep the momentum going."
That's entertainment
And the striker is also relishing his other role at club - fans' favourite, thanks to his goalscoring exploits and the 'floss' goal celebration.
"I've got a close relationship with the fans since our pre-season trip to Portugal," Fondop explained.
"The floss celebration was after a young lad told me, 'Please, if you score in the next game I want you to do the floss.'
"So I said I would do that if I scored and I had to keep to my word. I started doing it and then everyone was all over it.
"The fans come for entertainment but we have to stay focused on the game.
"But at some point we try and give them a bit of entertainment and that's what I'm trying to do."