Fifa bans Palestinian FA president Jibril Rajoub for Lionel Messi comments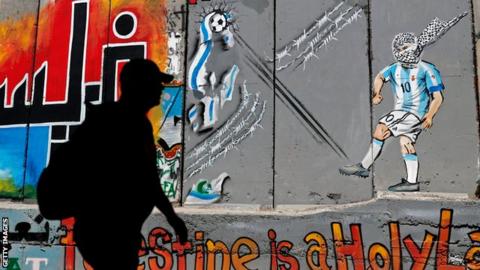 Fifa has given the president of the Palestinian Football Association a 12-month suspension after he urged fans to burn Lionel Messi shirts and pictures.
Jibril Rajoub has also been fined 20,000 Swiss francs (£15,826) for "inciting hatred and violence" with statements made before a friendly between Argentina and Israel.
The match was due to take place in June in Jerusalem but was then cancelled.
Rajoub will not be able to attend football matches in any capacity.
In June, Argentine Foreign Minister Jorge Faurie had said he believed his country's footballers "were not willing to play the game" against Israel.
After the match was cancelled, the Palestinian FA issued a statement thanking Argentina forward Messi and his team-mates.
"What happened... is a red card from the rest of the world to Israelis," Rajoub told a news conference, having earlier accused Israel of using the match as a "political tool".
The Israel FA said it viewed "with severity the physical and brutal threats, which crossed every red line, made by" Rajoub.
It also vowed to "do everything in its power in the world football institutions to make Rajoub and the Palestinian FA accountable".
Palestinian FA responds
The Palestinian FA expressed its "utmost surprise" at the decision, which it claims is "unproportionate, absurd, and lacking in evidence".
It questioned the decision to impose the maximum penalty, as well as the fact neither Messi nor the Argentine Football Association lodged a complaint.
It claims a "predisposition to ban Rajoub" following the complaint by the Israel Football Association and "some settler extremist group" who "reside, illegally, in the Palestinian occupied territories" and who have based their accusations on media statements made by Rajoub to a Lebanese media channel in 2013.
The Palestinian FA says it will now "pursue this issue to the last possible legal venue".