Partick Thistle committed to Souleymane Coulibaly signing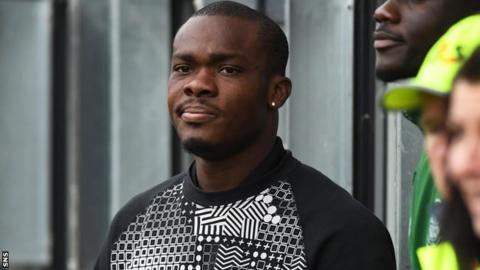 Partick Thistle say they signed Souleymane Coulibaly in the full knowledge that they face a struggle to field the former Kilmarnock striker.
The 23-year-old was sold by Killie to Al Ahly for £800,000 in January 2017 but walked out on the Egyptian champions four months later.
World governing body Fifa has since ordered Coulibaly to pay compensation.
"There was no naivety about the complications that would be involved in gaining clearance," Thistle stated.
"Before international clearance could be sought, it was a requirement for the club to sign the player.
"That essential step began the process, in conjunction with the Scottish and Egyptian FAs, of gaining clearance for Souleymane to play for the club.
"There is no cost to Partick Thistle associated with having taken this step."
Coulibaly scored 11 goals in 26 appearances for Kilmarnock after leaving Peterborough United in July 2016.
The former Ivory Coast youth international subsequently found the net six times in eight appearances for Al Ahly but has not been able to play since, spending some time training with Ayrshire junior side Hurlford United.
He signed a three-and-a-half year contract with the Egyptian club, whose legal representative has been quoted as saying that the striker is prohibited from joining or signing for any other club until he pays a fine of £1.1m to the Red Devils.
"The club is, and always has been, fully aware of Souleymane's situation," Thistle added.
"The club remains determined to do everything they can to ensure Souleymane is fully registered and available to play as soon as possible."