Morandi bridge disaster: Genoa fans watch home match in silence in tribute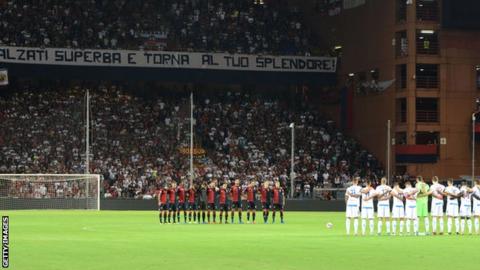 Genoa fans watched the first 43 minutes of their home match with Empoli in silence as a tribute to the 43 people killed when a motorway bridge collapsed in the Italian city earlier in August.
It was the club's first game since a 200-metre section of the Morandi bridge suddenly fell on 14 August.
Fans had asked for "a deafening silence of 43 minutes, one for each child, worker, student, father or mother who are no longer with us today".
Genoa won Sunday's Serie A match 2-1.
There were occasional muted cheers when Genoa attacked, but even when they scored twice in the first 20 minutes there was almost no celebration in the stands.
In the 43rd minute, applause broke out as the names of the victims were displayed on a screen, and the crowd then cheered as usual for the rest of the game.
Genoa and city rivals Sampdoria had both postponed their first matches of the season on 19 August following the disaster.
Banners carrying messages of solidarity were held by supporters around Italy's top flight over the weekend, including at Udinese, where Sampdoria began their league campaign with a 1-0 defeat on Sunday.