FA Cup first qualifying round: How tragedy led to free ticket offer at Hendon
By Neil Johnston
BBC Sport
Last updated on .From the section FA Cup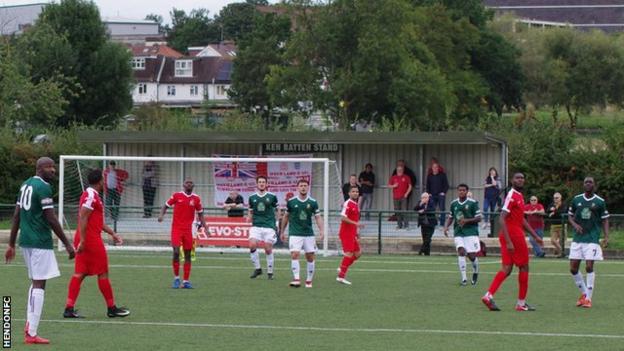 "If anyone is suffering from depression, loneliness or any form of mental health issue, and believe they would benefit from a couple of hours watching a league game, we'll be only too happy to have them come and watch for nothing," says Hendon chairman Simon Lawrence.
The non-league club has become one of the first in the country to offer free tickets to matches for anyone who feels isolated.
It is an initiative born out of tragedy.
Last November, former Crawley Town manager Dermot Drummy died suddenly at the age of 56.
An inquest later heard the former Chelsea youth coach, who had been seeking counselling for his "low mood", had killed himself six months after leaving his job at League Two Crawley.
Drummy is fondly remembered at seventh-tier Hendon after making 348 league and cup appearances for them as a winger in the 1980s.
"We took Dermot to our hearts," said Lawrence. "I don't think anybody could understand how such a bubbly character could be in such turmoil inside."
The Mental Health Foundation, which campaigns to improve services for people affected by mental health problems, says there were 8.2 million cases of anxiety in the UK in 2013.
Between 2003 and 2013, 18,220 people with mental health problems took their own life in the UK.
"No-one is immune from mental illness," added Lawrence, whose club host Harlow Town in the FA Cup first qualifying round on Saturday - one of 116 ties being played this weekend.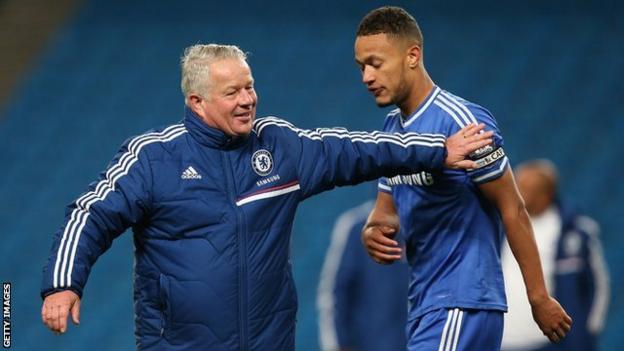 The club that puts fans' welfare first
Every penny counts at Hendon, a community-owned club where crowds of 300-plus are rare.
Last season their longest journey for a league match was a 290-mile round trip to Suffolk to face Lowestoft Town.
This season the Greens are faced with increased travelling costs, including trips to Devon and south Wales, after a summer shake-up saw them switch to the Southern League Premier Division South from the Isthmian League Premier.
Money is tight but Hendon, whose board of directors includes former 10,000m world record holder David Bedford, are putting supporters' welfare first.
The free ticket scheme, introduced at the start of this season, has been well received among Hendon's fanbase and beyond.
"We've received a couple of cheques, one for £11 to cover the admission price so the club wouldn't lose out," said Lawrence. "There's been one or two who have said: 'I've never watched Hendon before, I've never really heard of you, but I'll be looking out for your results from now on.'
"I've received a handful of emails from people interested in free tickets. It would be a dream come true if there were success stories on the back of this.
"I can't think of anything I'd like more than for somebody to send me an email, tap me on the shoulder two months later at a game, and say: 'I'm that person you very kindly gave free tickets for the game to. I loved it, I'm a regular, and I want to get involved.'"
'I come out of my house more often'
Wembley Stadium's arch can be seen from Silver Jubilee Park in Kingsbury, the ground at which Hendon have been tenants since August 2016.
The venue operates as a seven-day-a-week community hub, with Rob Morris the driving force behind most of the activity at the ground.
Activities include weekly football coaching sessions for people suffering a range of mental health issues. Those taking part receive a free Hendon season ticket.
One of those to benefit is Jay Gordon.
"I didn't like meeting new people before, but now I do," he said. "I come out of my house more often and I get to watch Hendon play as well."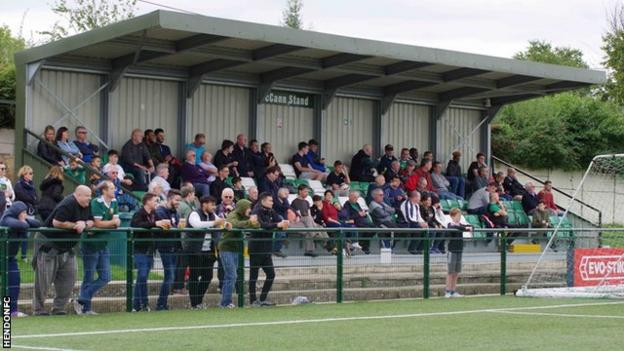 Nico Poole-Fraser, who coaches the team, said: "It's important to raise awareness because you don't have to be diagnosed to be someone who is experiencing mental health difficulties."
Morris, an honorary vice-president of Hendon, said the sessions were popular.
"It's been going for just over a year and in that time three have gone back to full-time education and another three have entered full-time employment," he said. "There's one boy here who hadn't come out of his house for three years."
A rich history - but now something new to be remembered for
Former Southampton and West Ham striker Iain Dowie appeared for Hendon before becoming a top-flight player, while Scotland international David Speedie turned out for the club towards the end of a career that included spells at Chelsea and Liverpool.
Perhaps the most famous player to turn out for the Greens is 1994 World Cup semi-finalist Bontcho Guentchev.
Five years after appearing for Bulgaria as a substitute against Italy in front of 74,000 in New Jersey, the forward was scoring against Canvey Island in front of 275.
Guentchev made 83 league and cup appearances in total for Hendon, scoring 12 times.
"Bontcho was living in Cricklewood when he pitched up in 1999 with a pair of boots asking if he could play," added Lawrence, who has been watching Hendon since 1970.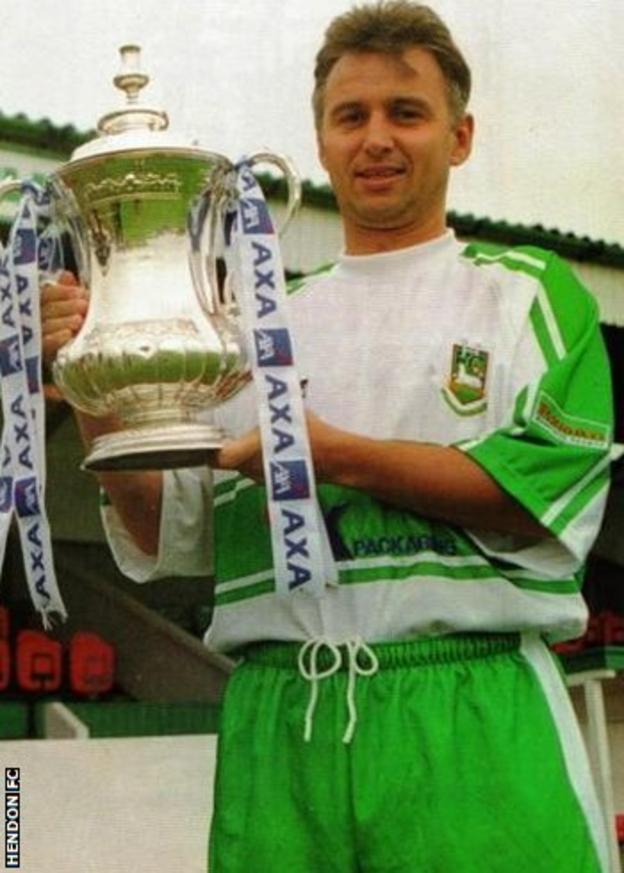 The Greens have a rich FA Cup history, reaching the first round 21 times, while in 1974 they took eventual finalists Newcastle United to a third-round replay.
Their 110-year history also includes three FA Amateur Cup triumphs and eight appearances at the old Wembley.
A 100,000 crowd watched Hendon lose to Bishop Auckland in the 1955 FA Amateur Cup final at the national stadium. In the same year, the Greens became the first club to play under floodlights at Wembley after being invited by the Football Association to test the system. They beat their own reserve team 1-0.
Now they are also receiving plaudits for what they are doing off the field.
"If we were to be remembered not for the cups that we've won or the league titles that we've won, but for doing some good in the field of mental health, I certainly won't be disappointed," said Lawrence.
If you are feeling low or struggling to cope with life, you can contact the Samaritans on a free helpline 116 123, or visit the website.