Kevin Nolan told he 'was safe' before Notts County sacking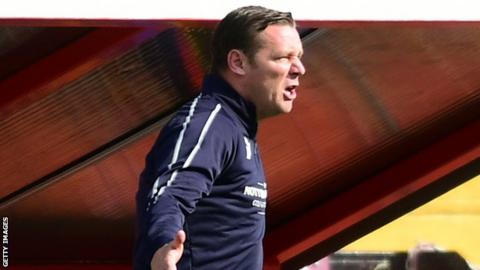 Former Notts County manager Kevin Nolan says he was told his job was safe before being sacked.
The ex-Bolton and West Ham midfielder had been in charge since January 2017 and led the club to the League Two play-off semi-finals in May.
But Nolan was let go after a getting just one point so far this season.
"I am disappointed with people who, on more than one occasion, told me I was safe and no matter what was happening they'd be there to back me," he said.
"I committed to the city and the club and it is disappointing I am sitting here now," he told BBC East Midlands Today.
But chairman Alan Hardy disputed Nolan's version of events, saying: "I am not sure he said I promised to stick with him.
"We had an excellent relationship and a very open relationship and yes, there was a huge amount of trust on all sides.
"I love the guy to bits as he is really fantastic but unfortunately the whole board - not just me, 100% of us - did not have confidence that the team could turn this around in the time available."
Eight wins in 28 games
Nolan was also upset at Hardy using the statistic of the club winning only eight of their past 28 games.
"If you look at me as a whole, my average is over 40% win rate for the club," he said.
"You can blanket it over any way you want it and use them those stats the way you want it but the biggest stat, which is the main one, is that I had over a 40% win rate for Notts.
"I don't think there are many managers who have had that or have got that."
But Hardy reiterated that long-term form was the reason that Nolan was relieved of his duties,
"If you split it into two halves, in the first part he was incredible," Hardy said.
"Unfortunately, there were only two away wins in 2018 and only eight victories in the last 28 games.
"More importantly, in the last five games we conceded 16 goals. Things just aren't right."
Nolan added that he felt County were a "totally different club" from when he took over and still feels he would have been the right man to turn their stuttering start around.
"I believe given the chance and the time we would have got the club back where it belonged in the top half and challenging," he said.
"I believe we would have done that. I am disappointed I am not going to be able to do it."