Hampden should stay Scottish football's home, says former SFA media chief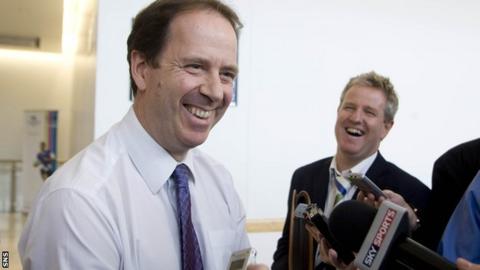 Former Scottish FA media chief Andy Mitchell hopes Hampden is retained as the national stadium but feels a sense of deja vu as its future is questioned.
The governing body could announce on Wednesday whether the national side will continue to play in Glasgow or switch to Murrayfield in Edinburgh.
Mitchell was at the SFA when a £60m rebuild was approved 20 years ago.
"I hope they plump for Hampden," he said. "It is the home of Scottish football."
The SFA's board is meeting at Hampden on Wednesday as it looks to decide where Scotland internationals and major domestic cup games will be played from 2020.
Queen's Park, the amateur League Two club - Scotland's oldest - that owns the Glasgow arena, and Scottish Rugby, which owns its sports national stadium at Murrayfield in Edinburgh, are vying for the contract.
The board could yet decide it needs more time to come to come to a conclusion and Mitchell is well aware of the scrutiny its seven members are under from his time as communications director between 1997 and 2007.
"Believe me, there were a lot of pressures from all directions," he told BBC Scotland. "The banks, finance companies, from inside football and the politicians - everybody had their own view as to how this should go."
The decision whether to rebuild Hampden or leave it completely at the end of the 1990s was so close that Mitchell, who is now a football historian, did not know himself which way it was going to go.
"Looking back now, it's amazing to see the files," he said. "I had to write two statements whilst we were waiting - one for whether Hampden was saved or whether Hampden was to go to the wall. You had to be prepared for all eventualities."
Hampden has been not only been the home of Scottish football since 1906 but is the base for Scotland's various governing bodies, including the SFA and Scottish Professional Football League.
Queen's Park, who have offered to sell Hampden to the SFA, have warned they face bankruptcy should they lose the contract and Mitchell believes tradition should play a big part in the decision.
"I'm quite distanced from it now, so it's hard to tell, but clearly there are quite strong arguments in favour of Hampden and Murrayfield," he added.
"So much is riding on this - for the city of Glasgow, Queen's Park Football Club and all the history and heritage that comes with those."
What the rival politicians say
Edinburgh Council leader Adam McVey: "We already host the biggest arts festival in the world.
"The last three weeks have shown that waste complaints have fallen to a five-year low, so its not only that we manage this but that we are getting better at managing it.
"Murrayfield is an incredibly well-connected, well-kitted out stadium with fantastic facilities already within the vacinity of the ground.
"The experience at Murrayfield is absolutely superb and we're looking to build on that.
"People talk about nostalgia and history, but I am more interested in making sure the future of Scottish football is sustainable, is growing and is more successful."
Glasgow South MP Stewart McDonald: "I'm hoping, although I'm not confident, that we get a decision this afternoon and they don't seek to kick this into the long grass.
"Glasgow has been the historic home of Scottish football for generations and I think future generations deserve to have a historic home.
"It's not just good for my constituency, it is not just good for Glasgow but it's good for the game itself.
"I accept the stadium needs to be modernised. There are clearly valid complaints about the experience people have, so let's have that conversation.
"I don't think it's credible for the SFA to walk away from one of Scotland's five-star stadiums, where Uefa has just said it is going to have the 2020 European Championships at. Glasgow is Scotland's sporting city, Edinburgh is the festival city.
"I am sure this board doesn't want to be the one that sends its oldest football club into potential oblivion. I think to silence the Hampden roar with a Murrayfield mute would be the absolute wrong thing to do for Scottish football."