Clapton CFC's away shirt goes viral in Spain because of anti-fascist message
Last updated on .From the section Football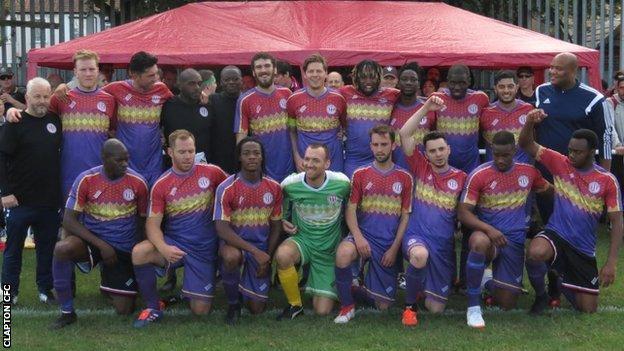 Clapton CFC play in the Middlesex County League Division One, the 12th tier of English football and are about to start their first season as a club.
So how on earth have they managed to sell over 2,500 replica away kits - mainly to Spanish people - and make £60,000 from it?
"It has been quite the shock for us, as we only expected to sell about 250 shirts in a year," says kit designer and Clapton CFC member, Thom, on the club's website.
"We didn't expect our tiny club to be noticed by Spanish football fans but we're delighted nonetheless."
The design of the kit is based upon the colours of the International Brigade, a group who fought against fascism in Spain during the civil war in the 1930s, and it features the slogan 'no pasaran' - meaning 'they shall not pass' - which was used by Republican troops at the time.
The shirt was first worn by Clapton players during a pre-season friendly on Saturday, in front of a crowd of 232 people, and now the club have been inundated with orders. So many, in fact, that it crashed their website.
Because of the demand, the price has been put up from £25 to £30 because they're now being charged VAT, and the club have had to start tweeting in Spanish to get messages to their new supporters.
Clapton, a fan-owned club who formed this year in Walthamstow, have said they have gained 20 new members from Spain, bringing their total to over 400.