Gareth Southgate bemoans lack of English players playing in the Premier League
Last updated on .From the section England50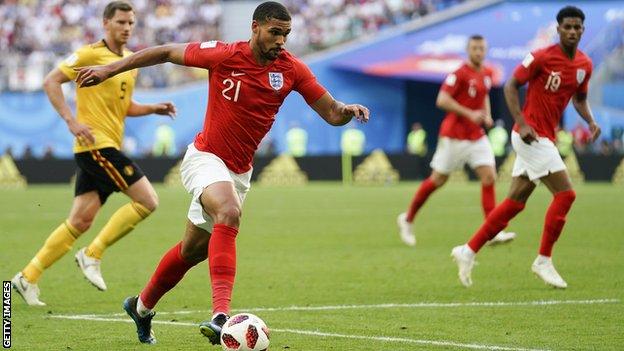 England boss Gareth Southgate says he may have to look to the Championship for players as the pool of homegrown talent in the Premier League is getting "smaller and smaller".
Southgate said that the number of English players playing in the top flight has dropped to 30% this season.
He expressed "concern" at the lack of opportunities for young players and says a lot of players "will be lost".
"It has really serious repercussions for our national team," said Southgate.
England reached the semi-finals of the World Cup in July.
Since featuring at the World Cup, midfielder Ruben Loftus-Cheek, 22, has only played 22 competitive minutes for Chelsea.
Southgate included him in the 23-man squad for September's fixtures against Spain and Switzerland, while Stoke goalkeeper Jack Butland was also selected despite playing in the Championship.
"I can't rule out players in the Championship now as our pool is getting smaller and smaller," said Southgate.
"One of our biggest concerns is playing time for English players, shown by a number of the squad that came with us to Russia not getting opportunities to play. More concerning is that young players that may be coming through to challenge are not getting opportunities to play."
England's Under-20 and Under-17s both won their respective World Cups in 2017 and Southgate says the "talent is there".
"The missing piece is this transition from youth football to senior football," he continued.
"There is still this link between 17 to 21 where the bridge into first-team football and the financial power of the Premier League has a big impact.
"I think it's worth us having that debate and getting people around the table to discuss that missing piece. If players are as good as any young players around the world, then that opportunity needs to be there."
He added: "If we are encouraging young players about entering academies, we are selling them the dream and there's an ethical element there too."