Blackpool: Owen Oyston will only sell club if he has to, says chairwoman
Last updated on .From the section Blackpool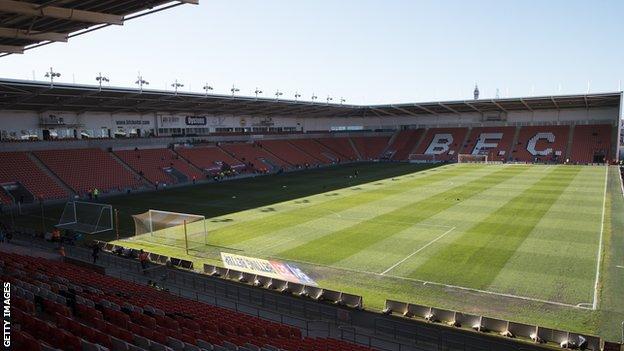 Blackpool owner Owen Oyston will only sell the club if he has to, says chairwoman Natalie Christopher.
Oyston had offered to sell his controlling shares to former director Valeri Belokon for £5m on 10 August.
The Oyston family were ordered to buy out the shares in the club owned by VB Football Assets, Belokon's company, for £31.27m in November 2017.
"In an ideal situation, he'd like to be able to agree a settlement and find the money and move on," she said.
Speaking to BBC Radio Lancashire, Christopher continued: "He'll only sell if he absolutely has to.
"If, financially, someone comes along and they can afford to pay the wages and look after it for the next hundred years, then it might be an consideration.
"It's not his first choice but he's not going to see it come to any harm if he can help it."
Christopher, who is Oyston's daughter, replaced former chairman Karl Oyston in February after he left the Tangerines.
Despite offering the controlling shares in the club to Belokon, Christopher does not believe the Latvian will take up the offer.
"I don't think Mr Belokon wants to take the club on," she said. "I think there's been some mixed messages there from everybody. It's been around the town that he wants to come and take it over when I don't think that's his intention.
"He may surprise us. Owen knows he has the finances to look after it in the future so he'll be comfortable in him taking it and moving forward with it if that's what Mr Belokon wanted to do.
"It's a difficult situation and it's got to be settled somehow."
A representative of Mr Belokon chose not to comment when contacted by BBC Sport.