Jayne Ludlow: Wales manager wants fully professional women's game
By Michael Pearlman
BBC Wales Sport
Last updated on .From the section Women's Football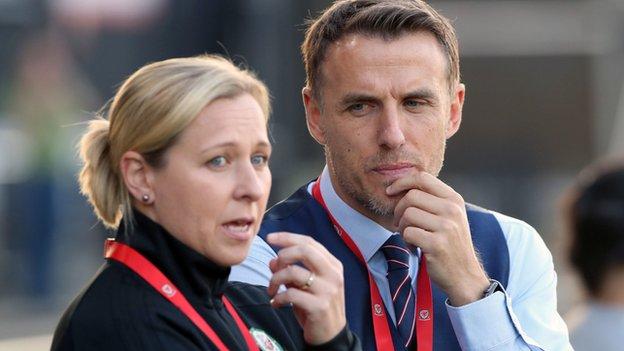 Manager Jayne Ludlow says the recent success of the Wales team has "woken" the country up to women's football and she hopes it can go fully professional.
Wales competed with England to top their 2019 World Cup qualification group until their final game, Friday's 3-0 defeat to the Lionesses in Newport.
England boss Phil Neville praised his rivals afterwards, saying "investment needs to keep pouring in now" in Wales.
"I am 'Miss Positive', so I believe it can happen," Ludlow said.
"Wales has woken up to a women's football team. I know some of the older, senior players are very happy to see that.
"It has been a little bit longer coming that they would have wished for but it is happening, so we have to build on that now."
On a night when victory for either side would seal a place at the World Cup finals in France, second-half goals from Toni Duggan, Jill Scott and Nikita Parris proved to be the difference for England.
Wales' qualification now depends on a series of other results going their way just to earn a play-off berth, with the final round of games being played on Tuesday, 4 September.
But Ludlow feels the campaign as a whole now needs to be capitalised on by the Football Association of Wales to grow the women's game.
"We matched a very good team in some areas, but not in others. For us now as a nation we have to make sure we are strong enough in the future," she told BBC Sport Wales.
"Hopefully the person sitting here [as manager] in 10 years has a far bigger pool of players to choose from.
"We have work to do as an association to provide things for young females, far more things, to make sure that we do have players playing at the top level - and more of them.
"It would be really nice to see in the next two or three campaigns, a fully professional Wales outfit, stepping out onto the pitch for the women's team.
"I believe it can happen, but you are looking at probably 8-10 years.
"Our programme's running right now, they have to affect the kids. Right now the pool of people we are affecting is too small, but we will make changes to that in the next few years."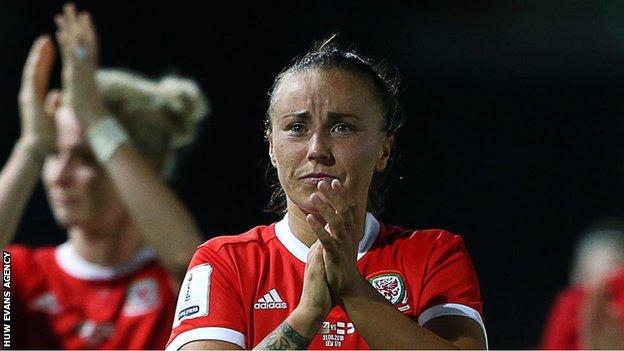 England boss Neville agreed with Ludlow, having gone out of his way to praise her side before a question was even asked at his post-match briefing.
"First of all I want to say how good Wales have been over the campaign," he said.
"They took us to a place where this England team has never been, which is right to the very last [qualification] game. So I think Jayne and this group of players deserve massive respect.
"I think what Wales are doing on both sides, with male and female football, is generating a togetherness and a spirit and it is something we have respected."
Neville added that he feels Ludlow will help to grow the game in Wales, having recently signed a new contract.
"They are close, Wales have got really good players, [Jess] Fishlock, [Kayleigh] Green, [Sophie] Ingle, they would get in most top-10 sides in the world. The goalkeeper [Laura O'Sullivan] was really impressive over both games," Neville said.
"The spirit and togetherness and Welsh passion is something they must always retain. I think signing Jayne for the next four years is massive for them because of her drive, aggression and enthusiasm.
"But I think they underestimate the quality they have got. Speaking to Jayne before the game, the investment needs to keep pouring in now.
"We are a long way ahead of Wales at the moment but I think in this campaign they have inspired the next generation and that is something for them to feel proud of."