Celtic 1-0 Rangers: Brendan Rodgers showed he controls dressing room

By Michael Stewart
Sportscene pundit
Last updated on .From the section Scottish Premiership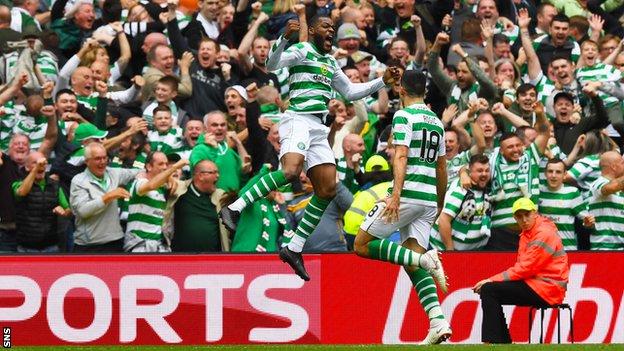 Winning the first Old Firm derby of the season will have a bigger impact on Celtic than it will on Rangers.
Brendan Rodgers' side had big questions to answer. Was there internal strife because of the Dedryck Boyata and Moussa Dembele situations? Had they lost their focus? Were Rangers closing the gap?
Celtic stepped up and answered them. The 1-0 win is a huge confidence boost to a side who failed to reach the Champions League group stages.
But for Rangers, defeat is not a detrimental blow. It might create a lot of noise outside Ibrox, but internally it's not going to change a great deal for Steven Gerrard's side.
Rodgers shows he is in control
The bid from Fulham being rejected for Boyata. Dembele essentially saying he forced through a move to Lyon. Missing out on transfer targets John McGinn and Scott McKenna. Failing to make the Champions League. Losing to Hearts. Rangers revived under Gerrard.
The Celtic fans had a lot to be upset about. Their team are weaker than they were, there is no question of that.
The dressing room is where managers earn their money. This was a horrendous situation that could - had a manager not controlled it well - have exploded. But it looks like Rodgers had complete control. He has managed to utilise all that's gone on in the last month positively when it could easily have gone the other way.
He couldn't have asked for a better performance after what has been a horrific window for Celtic. This was the type of game that can shift the momentum in one fell swoop and that's exactly what he's done.
It was dominant from start to finish. They really did force the issue and put Rangers on the back foot.
Rodgers has managed to get the narrative right and get the players to believe in what he wants - it was back to the basics of what Celtic have been under his command. High tempo, real intensity, pressing their opponents. They were hunting in packs to win the ball back, constantly wanting to get forward.
They never allowed Rangers to get any foothold in the game.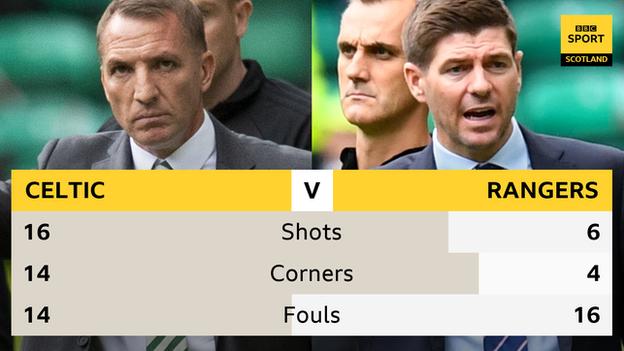 No fault with Gerrard
Rangers' success has been built on a strong backbone. It got them through a tough game in Russia on Thursday, where even with nine men they held on against FC Ufa to reach the Europa League group stage.
Steven Gerrard was never going to be too expansive at Celtic Park; he was always going to make sure he didn't leave the team exposed with a tight unit in defence and midfield. But Celtic never allowed them to get forward.
Was the manager too late in trying to do something? No. Maintaining it at 1-0, keeping themselves in the game, was the way to go after the week they've had. Look at James Tavernier - he gets a chance late on. It would have been an absolute steal, but that was the chance.
There was a greater expectation to come and lay a glove on Celtic, but you've got to give them huge credit.
They played just as well as they did in the 5-0 game that clinched the Scottish Premiership title in April. But its fine margins - they hit the crossbar a few times, Alan McGregor has had a couple of great saves, that's the difference right there.
It's those fine margins that change the perception. The performance from Celtic was as good as it has been before. And Gerrard cannot be held accountable for that.
Michael Stewart was speaking to BBC Scotland's Andrew Southwick