Garth Crooks' team of the week: Lacazette, Cathcart, Lukaku - but who else?

By Garth Crooks
Football analyst
Last updated on .From the section Premier League

Tottenham fell to their first defeat of the season on Sunday as Watford made it four wins from four.
Elsewhere, Manchester City maintained their unbeaten start to the season by beating Newcastle, Arsenal beat Cardiff in a five-goal thriller, while Southampton overcame Crystal Palace, Brighton drew with Fulham, and Everton shared the spoils with Huddersfield.
But who did enough to make my team of the week? Read my selections and then pick your own XI.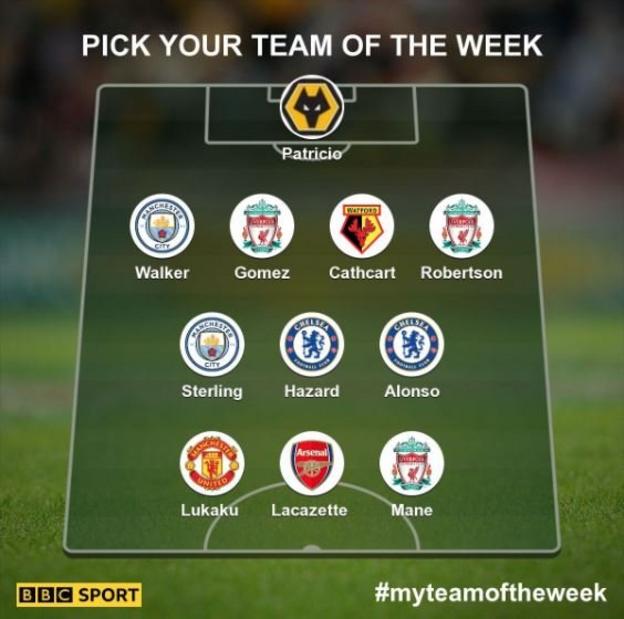 Goalkeeper - Rui Patricio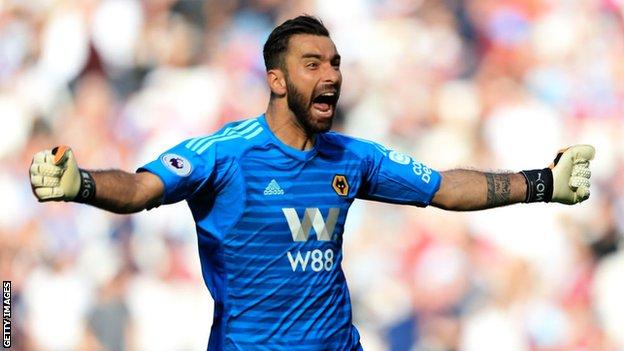 Rui Patricio: Wolves' 1-0 win against West Ham was quite extraordinary.
The Hammers did everything they could to squeeze a result out of the fixture and would have done had Patricio not produced another fantastic performance at London Stadium. His save from Michail Antonio was sensational - only to be repeated when the Portugal international stopped Marko Arnautovic from putting West Ham ahead in the first half. It would have been a very different scoreline had it not been for Patricio.
As for West Ham, they must hold their nerve and not fall apart if they want to stay in the Premier League.
Did you know? Patricio has saved 50% of the 'big chances' he has faced in the Premier League this season (two from four). Only Petr Cech (75%), Neil Etheridge (71%) and Alex McCarthy (56%) have a better percentage in the division.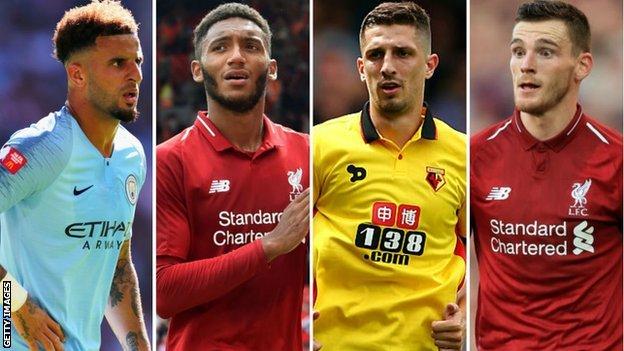 Defenders - Kyle Walker, Joe Gomez, Craig Cathcart, Andrew Robertson
Kyle Walker: Wow - what a strike from Manchester City's England international against Newcastle. It flew past Martin Dubravka. This was the first goal Walker has scored for City, and what a sensational way to start your campaign.
Now, about the self-inflicted holes in his socks. They look as if the moths have been at them but serve a useful psychological and very practical purpose. It's not unusual for some players to have issues with their calves in games, which can result in cramping. Players cutting holes in their socks is not new in football, although I was never fully convinced. If Walker thinks it works then that is all that matters. I just hope thousands of kids around the country don't start destroying perfectly good pairs of football socks.
Did you know? Walker's goal against Newcastle was his first in 52 appearances for City.
Joe Gomez: If Trent Alexander-Arnold and Andrew Robertson were the 'finds' of last season then I would argue that Liverpool's Joe Gomez must be the 'find' of this season. The player's calmness in defence is matched only by his simplicity on the ball. The central defender refuses to complicate the game and that is what I find so adorable about his performances.
Three games played and no goals conceded? I thought I was hearing things, but that was the reality going into the game against Leicester City. Gomez has played in all those games But it was his performance against Leicester that was outstanding. This player is a must for England, and I am really sorry to have to say this and put so much pressure on the lad, but he is the nearest thing I have seen to Bobby Moore for years.
Did you know? As well as making more interceptions (three) than any other player in Liverpool's game against Leicester, Gomez won 100% of his duels and aerial duels.
Craig Cathcart: How did Spurs lose to Watford? What's that about? If you can't defend set-pieces you can't win titles, that's for sure.
After the highs of Old Trafford, Spurs fans suffered the indignation of losing to Watford having taken the lead. I'm happy to buy the shampoo if the Tottenham players are that concerned about heading the ball in their own box. I've never seen anything like it - and after such a super victory over Manchester United last week.
Spurs lacked the determination of Troy Deeney and especially the aerial power of Craig Cathcart in both boxes. Four wins in a row - what is going on at Watford?
Did you know? Each of Cathcart's five league goals for Watford have come at Vicarage Road, and all have come from set-pieces (three corners, two free-kicks).
Andrew Robertson: Last week I singled out Alexander-Arnold for special praise. This week it's left-back Andrew Robertson, who was at the heart of Liverpool's victory. The young Scot can be ruthless in defence and quite devastating in attack. The way he looked up and picked out Sadio Mane for their opening goal is something we are beginning to expect from the defender.
Robertson and Alexander-Arnold form part of a Liverpool back four who have become very stingy.
Did you know? Only James Milner (90) has completed more passes in the opposition's third in the Premier League this season for Liverpool than Robertson (67).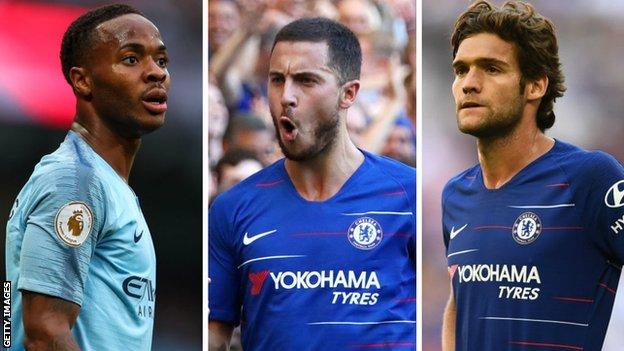 Midfielders - Raheem Sterling, Eden Hazard, Marcos Alonso
Raheem Sterling: What I love about Pep Guardiola is he makes players who work for him better, in a way Jose Mourinho finds extremely difficult, especially at Manchester United.
Guardiola is a coach in the real sense of the word, and the player who has benefitted most since Guardiola's arrival at Manchester City has been Raheem Sterling. The England international couldn't hit a barn door 18 months ago but has clearly worked extremely hard on the training pitch, improved his striking technique and acquired greater composure especially in front of goal.
So much has been said about giving home-grown players a chance in the Premier League. Well, we might produce better English players if we had better English coaches.
Did you know? Since the start of last season, only Mohamed Salah (45) and Harry Kane (35) have had a hand in more Premier League goals than Sterling (31 - 20 goals, 11 assists).
Eden Hazard: Chelsea simply wore Bournemouth down - the way Willian, Mateo Kovacic, Jorginho and Hazard twisted and tormented the visitors for 90 minutes, it was hardly surprising. But for all of Chelsea's ingenuity it took something a little special from Hazard to put the game beyond the Cherries.
Chelsea have become a much nicer team to watch than they were under Mourinho, and to a lesser degree Antonio Conte. Nevertheless, it's killing Alvaro Morata. For all of Chelsea's fancy play, when is Morata going to get a decent ball into the box to attack? He's not a Diego Costa and certainly no Didier Drogba but he is very capable of scoring goals with the right service, and Hazard and co need to start giving that.
Did you know? Hazard created more chances (five) than any other player in the Premier League this weekend.
Marcos Alonso: For the third consecutive week Alonso has made my team of the week. The Spain international is playing better than I have ever seen him play.
However, the full-back was very lucky to have remained on the pitch against Bournemouth. After Alonso's altercation with Adam Smith, referee Lee Mason later turned a blind eye to a successful attempt not to let Smith take a quick throw-in. I have been a big advocate of insisting that we retain 11 v 11 whenever possible, however where Mason got it so badly wrong was to give Alonso a yellow card for his first infringement when a warning would have done. By not booking Alonso for his second and more obnoxious offence, it left Mason open to the accusation that he 'bottled it'.
Chelsea went on to win the fixture and Alonso was the chief architect of Bournemouth's downfall. Nevertheless, Cherries manager Eddie Howe, to his eternal credit, never complained. A number of managers could take lessons from that.
Did you know? Alonso has attempted 12 shots this season - more than any other defender in the Premier League.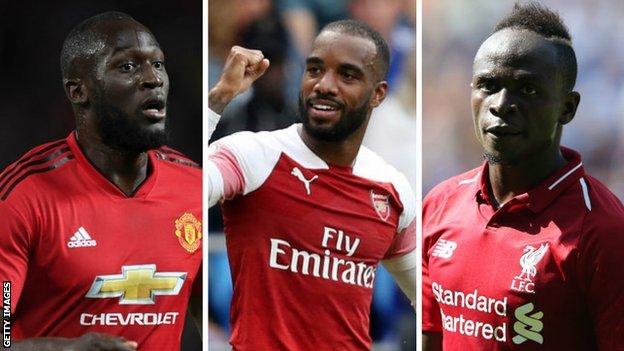 Forwards - Romelu Lukaku, Alexandre Lacazette, Sadio Mane
Romelu Lukaku: Of all the games that were played this weekend, the fixture that fascinated me the most was Manchester United's visit to Burnley.
The interest and speculation surrounding United boss Jose Mourinho is red hot. I observed every ball kicked at Turf Moor looking for the slightest hint of insurrection from Mourinho's players, and all I saw was complete and utter professionalism.
It's just as well Mourinho has Lukaku in his side. The Belgian giant lives to score goals and two first-half finishes sunk Burnley like torpedoes. Apart from Marcus Rashford's sending-off, I didn't see an ounce of unprofessionalism. You can read more about my thoughts on Mourinho and his relationship with his players and the press in The Crooks of the Matter below.
Did you know? Lukaku scored his first Premier League brace for Manchester United since his debut in August 2017.
Alexandre Lacazette: The very suggestion Lacazette and Pierre-Emerick Aubameyang can't play together as a pair at Arsenal sends me apoplectic. The fact of the matter is Arsene Wenger lacked the nerve to play the two up front on a regular basis, and if Unai Emery had started his first two games of the season with both men in his line-up he may have had different results.
Managers deserve nothing (and often get nothing) when they sacrifice a striker with massive goalscoring credentials for midfield mediocrity. Thank goodness Emery has come to his senses and started Aubameyang and Lacazette against Cardiff. The lads clearly get on and enjoy playing alongside each other. Scoring goals is the most difficult thing to do in the game and if you've paid a fortune to get goalscorers in your club why on earth wouldn't you play them?
Did you know? Lacazette has been directly involved in seven goals in his past five Premier League starts (five goals, two assists).
Sadio Mane: Three games and no goals conceded? As I said earlier, I thought I was hearing things in the commentator's preamble before Liverpool's victory over Leicester City. I guess that's what happens when a defence looks like it has spent its entire summer attending a crash course on keeping clean sheets, and a three-pronged attack that looks like they've received drills from the Red Arrows.
At the heart of Liverpool's fancy manoeuvres against Leicester was Mane. To be fair to the Senegal international, he was last season, but Mo Salah had such an unbelievable campaign that Mane's attributes were often overlooked.
At last Jurgen Klopp has finally realised what can be achieved with a competent defence to assist their attack. It's taken him three years to discover that.
Did you know? Mane has had a hand in four goals in his past four Premier League games against Leicester.
Now it's your turn
You've seen my picks this week. But who would you go for?
The Crooks of the Matter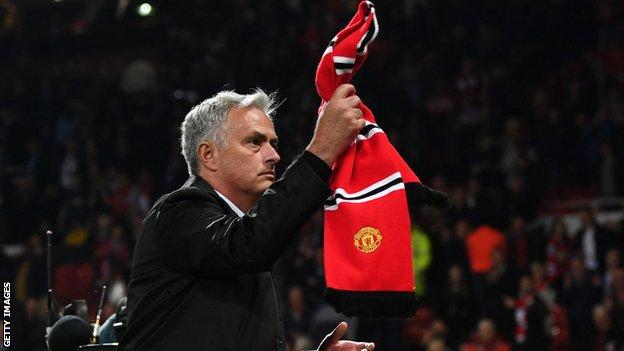 I didn't think for one minute that I would be discussing the fortunes of Jose Mourinho at Manchester United in the only the fourth week of the Premier League season. However his antics, even for him, have been 'special'. To turn up for a news conference 30 minutes before it's scheduled to take place without giving journalists prior warning was mischievous. To then storm out of the next news conference, ranting and raving, after the defeat against Spurs was unprofessional. What we cannot deny is its entertainment value.
We have seen this behaviour from Mourinho before, of course. His antics at Chelsea, during both spells, almost mirror what is happening at Old Trafford.
Not since Brian Clough's 44 days at Leeds United have I witnessed such extraordinary behaviour in a manager. Clough could be outrageous at times but always maintained the utmost respect of the press. He had charm, and it has been some time since Mourinho possessed even the slightest hint of charisma.
Legendary United boss Sir Alex Ferguson chastised, intimidated, and even banned journalists from attending his news conferences - but the press held him in the highest regard because of his accomplishments and standing in the game. Both Clough and Ferguson won the European Cup and numerous league titles. Mourinho's achievements are comparable, and I think Jose is perfectly entitled to ask for the same level of respect. The question is will he get it?
The way Mourinho stood and applauded United fans at the Stretford End as he left the field after the defeat by Tottenham was almost threatening. The band of United supporters who are clearly standing by Mourinho sense, as we all do, that their club and the manager are in uncharted waters, and have no idea what the Portuguese might do next.
I have a strong suspicion the spectre of Zinedine Zidane might have a lot to do with Mourinho's anxieties. To get so emotional in a news conference in a bid to remind journalists who he is and what he has done in the game is unnecessary - we know what he's done - but suggests their relationship is at breaking point.
What Mourinho must protect at all costs is his relationship with his players and the Manchester United board. Get that wrong and it's curtains.