'Celtic flex muscle to remind Rangers that rebuild has some way to go'

By Tom English
BBC Scotland
Last updated on .From the section Scottish
If Steven Gerrard went into his job at Rangers with his eyes wide open he would have been forgiven at various times on Sunday had his eyes shut tight such was the pummelling his team took at Celtic Park.
In his storied football career Gerrard has seen most things, but standing helpless on the sideline as his club threatened to succumb to the kind of defeat he hoped they had left behind can't have been a pleasant experience.
The only comfort for Gerrard on the day was that he escaped the mortification of his predecessors and the seismic blow to morale that may have come with it.
In the aftermath, he tried to frame the day around one incident in the preamble to Olivier Ntcham's winning goal. On social media, there were others who attempted to frame it in an altogether different way.
Gerrard, it was pointed out, had now won just one of his four league games in charge. He had, in fact, accumulated less points in his first four Premiership matches as Rangers manager than both Mark Warburton and the hapless Pedro Caixinha. This, it was revealed, was Rangers' worst start to a top-tier season in 29 years.
The stats about his faltering beginning to his league campaign are unarguable on the face of it, but anybody with two half-decent eyes in their head can see Rangers have moved forward under Gerrard.
They have the best goalkeeper in the league, two strong centre-halves and a left-back who is showing up really well. The big difference in this Rangers team compared to the soft touches of before is in their robustness in defence. Gerrard is rebuilding from the back and has decent foundations in place.
Defensively, they are stronger. Offensively, they have a way to go. That's the next phase of his project. Gerrard set his team up to survive rather than attack.
These are early days for him. Making Rangers resolute in this fixture is one thing, but making them the kind of side capable of breaking down the likes of Celtic over 90 minutes is going to take a whole lot longer than a few months.
Rangers' success in Europe - their weighty victories over trappy opposition from Croatia, Slovenia and Russia - painted a misleading picture of their readiness for Sunday.
Brendan Rodgers continues to count the Rangers managers into Celtic Park and then count them out again, each one in turn - Warburton, Caixinha, Graeme Murty and now Gerrard - all left flailing verbally as they attempted to rationalise what had just happened to their team.
From Warburton claiming that the gap was narrowing despite his side having been pulverised 5-1, to Caixinha who stuck by his line that Rangers were the best team in Scotland despite another 5-1 loss, and onwards to Gerrard, who raged against referee Willie Collum.
In claiming that Collum cost Rangers a point because he failed to whistle for a foul in an incident 80 yards from Allan McGregor's goal was another example of Scottish football's capacity to detach itself from its trolly.
Of course it was Gerrard's prerogative to pick out that refereeing decision above all others and highlight it as game-defining, but so much more went on.
Rangers had been "done" by the referee, said the Rangers manager. The one thing that the collision between Tom Rogic and Ryan Jack was not was a "clear foul". Slow it down and freeze frame it and you can easily call it against Rogic, but it was a tight call.
In reality, Rangers had survived in the game only because of their goalkeeper's brilliance and because of the width of the frame of the goal around him.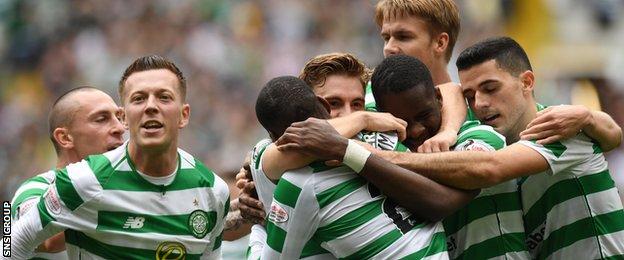 If you were cataloguing the most one-sided Old Firm matches of the Rodgers' era - 10 Celtic victories and two draws - then this one would have been right up there in the top third. It may not have had the goals mountain that earlier versions had, but Celtic's dominance of the ball was a carbon copy.
These have been tricky weeks for Rodgers. For two seasons, the Celtic manager has exuded control and authority, but he's had some challenges of late. A deep frustration in the transfer market, an early loss to Hearts, a wounding exit from the Champions League, the botched John McGinn saga, Dedryck Boyota's truculence, Moussa Dembele's rebellion, the strained relations with his own board.
All of this weakened Rodgers, no doubt about it. He hasn't been the same man recently. He's been fighting the kind of fires that never existed on his watch before.
It was the day when Rodgers' aura was restored. It was another example of his team flexing their muscle when a test was presented to them on the domestic front, a reminder that on their best days they are still a distance ahead.
This wasn't about foul that wasn't given, it was about a difference in class and a gap that still exists. Gerrard is doing good work, but he saw the brutal reality of his new life in Scotland on Sunday.