Harry Kewell: Notts County manager relishing pressure at League Two strugglers
Last updated on .From the section Notts County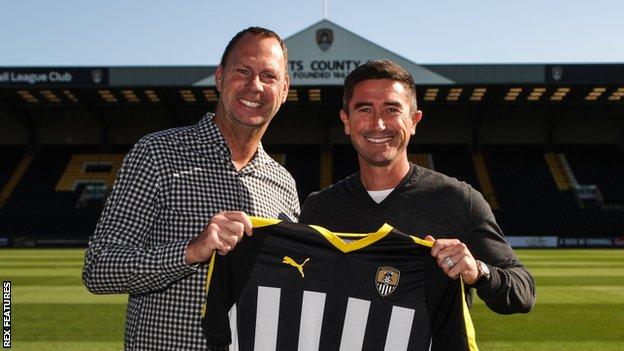 Manager Harry Kewell says he "thrives on pressure" and expects to challenge for promotion despite Notts County being bottom of League Two after a winless start to the season.
Kevin Nolan was sacked after five games this season and the Magpies were also beaten by Forest Green on Saturday, meaning they have just one point.
Kewell, 39, said he was "excited by the ambition" of chairman Alan Hardy.
"The club deserves needs to be up there and deserves a lot better," he said.
"I am here to work hard and get the club back to where it should be.
"We want promotion. I know it will be tough but we have some very talented players. They are a little bit down at the moment but they are are willing to learn.
"I want to prove people wrong. There will be a lot of doubters but I love pressure and I thrive on it."
Kewell wants to his players to have greater attacking freedom and is confident they can adapt to the passing style he implemented during his 16 months as Crawley Town boss.
The Australian, who will work with a soon-to-be-appointed technical director, added: "I am proud that Notts have seen the potential in me. I am excited by the challenge."
Hardy believes he has learned an enormous amount during his 18 months as Notts owner.
"It feels like I am coming to the end of apprenticeship," he said. "I have made a lot of mistakes but I think we have made enormous strides within the club, with the processes and structures.
"It has been the most difficult week I have had in 30 years as a professional businessman but I am delighted to have Harry as our new manager."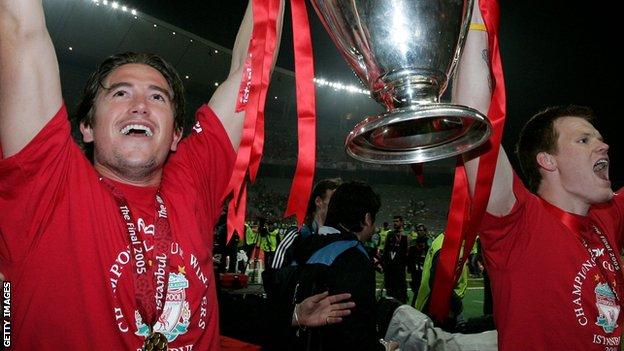 Hardy expects former Leeds and Liverpool forward Kewell to bring an excitement the club has not seen for many years and said he was "head and shoulders" above the other candidates because of his ability as a coach.
"I wanted a manager who is also an outstanding coach," Hardy added. "He has personal plans for all the players and his coaching was on a different level to the other coaches I interviewed.
"I am confident he will deliver for us."
Hardy sees Kewell as a "long-term solution" and would have liked to have been able to offer a five-year contract rather than a three-year deal.
"He wants a project," Hardy added. "He wants to set down roots and to build something."
'Kewell confident and determined' - analysis
Charlie Slater, BBC Radio Nottingham's Notts County correspondent
"Harry Kewell was confident, determined and complimentary about the football club, but fully aware of the task in had.
"He backs himself to the hilt and has got an illustrious playing career to support that confidence. Now we will see if that transfers to management having only been in charge at Crawley for just over a year.
"It was very interesting that he said he prefers being a manager to a player. If he is anywhere near as good a manager as he was a player then Notts will have made a wise appointment."