Jersey's FA and Jersey Football Combination to merge next season.
Last updated on .From the section Football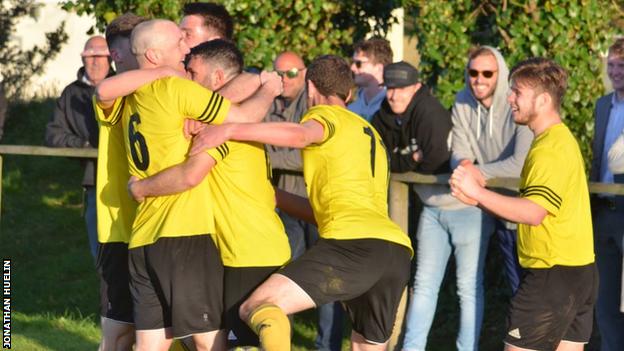 Jersey's Football Association (JFA) and the island's main league - the Jersey Football Combination - are to merge.
The 16 league clubs voted unanimously to bring the two bodies together in time for the start of the 2019-20 season.
The Combination has been an independent entity for more than 40 years.
It was formed in 1975 after the merger of the Jersey Football League and the Saturday League and has been the main 11-a-side league since then.
"Now is the right time to join forces with the JFA to help the clubs and develop the game in Jersey," said Combination president Charlie Browne.
Under proposals put forward, the league president and one board member will join the JFA board, while a new competitions committee will be set up.
The existing league and cup formats will also be reviewed and a new sponsor will be sought.
"This is one of the most significant developments for Jersey football in decades," said JFA chief executive Jean-Luc Desbois.
"It is both humbling and massively motivating that the clubs decided to embark of this road to unity and change.
"Bringing the league and JFA together will make Jersey football stronger, more cohesive and better resourced."