Liverpool throw-in coach Thomas Gronnemark 'has the weirdest job in football'
Last updated on .From the section Football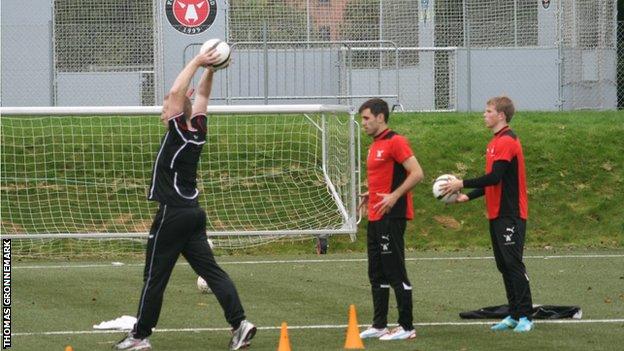 Thomas Gronnemark was perhaps the most surprising arrival at Liverpool this season after a summer of big spending on the likes of Alisson, Fabinho and Naby Keita.
Even manager Jurgen Klopp admitted he had never heard of a throw-in coach before employing the Dane.
The appointment of the 42-year-old, who also holds the world record for the longest throw-in at 51.33m, raised eyebrows and was mocked by TV pundit Andy Gray.
"I know it is totally the weirdest job in the world," Gronnemark, who thinks he is the world's first throw-in specialist, told BBC Sport.
Former Stoke midfielder Rory Delap may be the best known exponent of the long throw-in in the Premier League era, but Gronnemark says his brief at Anfield is "not to turn Liverpool into the second Stoke".
As he explains, there is more than meets the eye to the humble throw-in and it's a skill that when mastered can lead to goals and even "save the life" of a team.
Already making a difference at Liverpool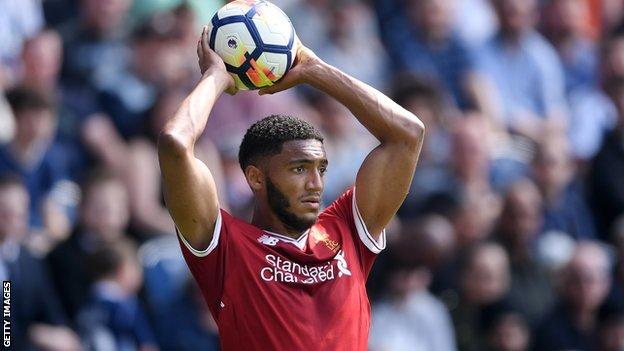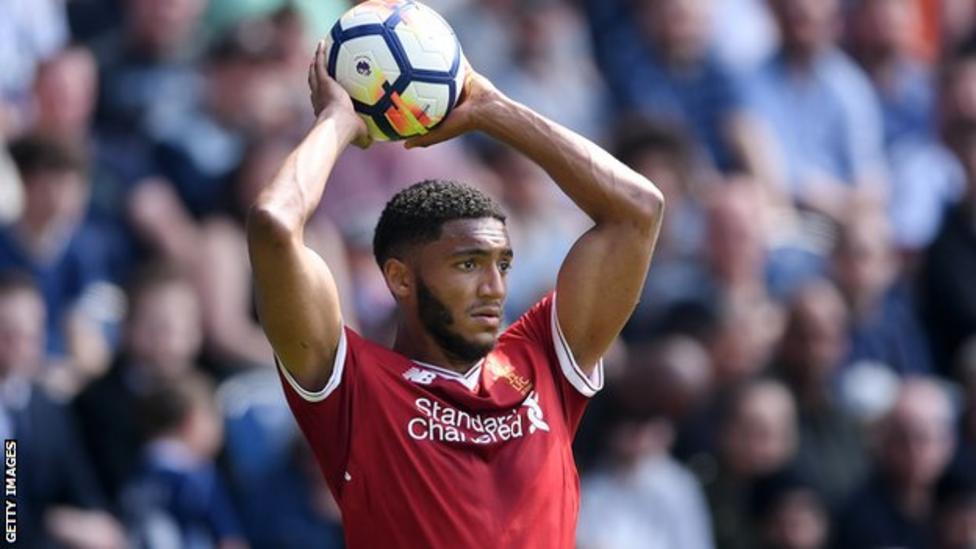 "I saw Joe Gomez take some really good throws for Liverpool that I had not seen him do before, he was fizzing it in there," said former Arsenal striker Ian Wright on Radio 5 live's Monday Night Club.
"It looks like he [Gronnemark] has taught him something. You have to say Liverpool will benefit from that."
Klopp believes Gronnemark has "already made a difference" with his work at Melwood.
"To be honest, I'd never heard about a throw-in coach," said the German. "When I heard about Thomas, it was clear to me I wanted to meet him; when I met him, it was 100% per cent clear I wanted to employ him."
Gronnemark, who has been working with teams since 2004, said Klopp contacted him as he was "curious" about his work and he says it is a "dream" job.
"If I was a defender I would not want to be on the end of one of Gomez's throw-ins," said Gronnemark.
"In general against Liverpool I would not want to put the ball out for a throw-in. I am not saying Liverpool will do a lot of long throw-ins, but you never know when they may do it."
Science of a throw-in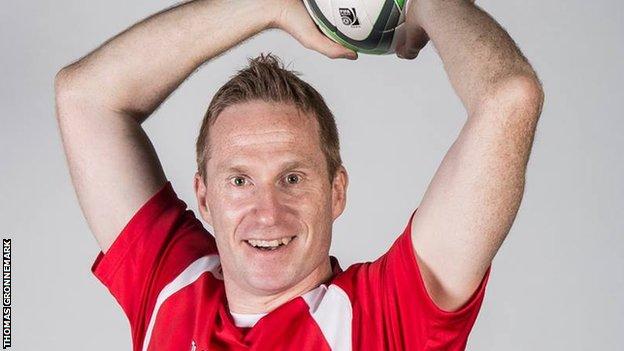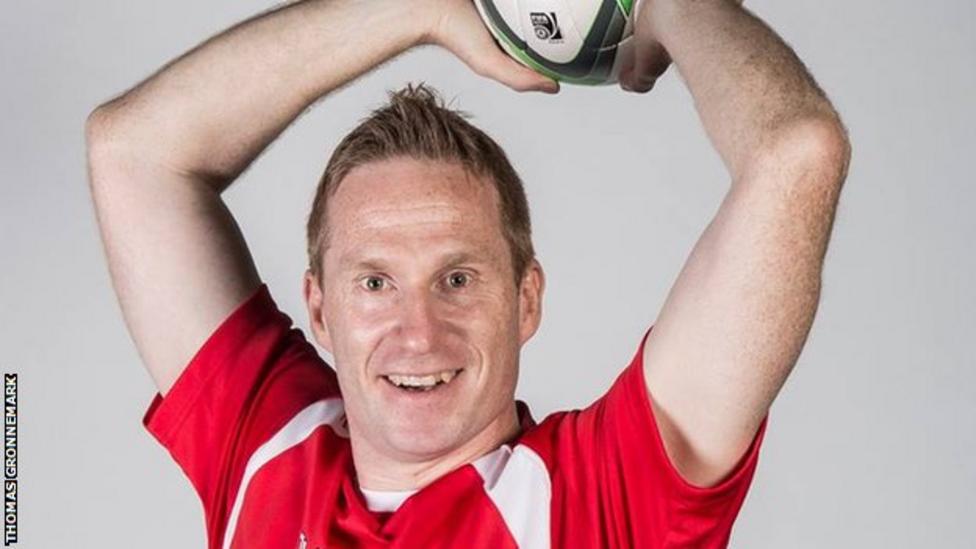 Gronnemark estimates there are 40-50 throw-ins in a game and in Saturday's 2-1 win against Leicester, Liverpool had 54 - their role and importance, he says, are "underestimated" unlike other set-pieces.
"If you are expecting professional footballers to be world-class throwers without coaching then you are pretty optimistic," he continues. "Generally the standard is quite poor.
"A focus on throw-ins can save the life of small clubs, as a technique to survive.
"But at the top of the league, it can help with a more fluent style of play. No matter what position in the league, throw-ins are an advantage."
Gronnemark teaches three types of throw-in - the long throw-in, the fast throw-in - which can launch counter-attacks - and the clever throw-in, which is about keeping possession under pressure.
"I focus on everything you can imagine," adds Gronnemark, a former international sprinter who was in the Danish athletics and bobsleigh teams. "It is not just the technique of the throw, but how to receive it, how to make the right runs, the positioning, creating space."
Aside from his freelance work with Liverpool, Gronnemark also coaches at Danish top-flights clubs FC Midtjylland and AC Horsens, and in the German Bundesliga.
Midtjylland, who won the Danish title last year, and Horsen scored 10 goals each last season from long throw-ins.
Danish left-back Andreas Poulsen, who joined Borussia Monchengladbach from Midtjylland, improved his long throw from 25m to 37.9m under Gronnemark's coaching.
Gronnemark says there are 25-30 technical aspects to a long throw and he uses video analysis to make improvements, which can see players improve their distance by four to eight metres on average and double the throwing area. Flexible, rather than strong players, are best at throw-ins and it is an essential skill for a full-back.
"If Liverpool score a goal or two from long throws that would be perfect for me," said Gronnemark." But even more so if it comes as a result of a fast throw or clever throw."
According to Opta, there have been just 20 goals scored from a "throw-in scenario" in the Premier League in the last five seasons and one scored so far in 2018-19.
Last season, Liverpool had just three shots from throw-ins, while Leicester City led the way with 14.
Goals from fast throws and clever throws are impossible to measure, but Gronnemark says these have a "greater impact" on the game and can make the game faster and more entertaining.
"If you have more possession, you have a greater chance of winning a game," says Gronnemark. "Sometimes set-pieces develop into set-pieces like corners and free-kicks and they help build pressure."
'I can make fun of myself'
"I'm sorry, a throw-in coach? Here's the ball, pick it up with both hands, take it behind your head and throw it with both feet on the ground," said former Scotland striker Gray in his criticism of Gronnemark's appointment.
Gronnemark says he didn't have a problem with Gray's comments, but felt the ex-Wolves player could have looked into what his job entailed.
"I know it is the weirdest job in the world," says Gronnemark, who has been fascinated by throw-ins since he was a child and has developed his own coaching course to fill the gap in the market.
"I am the world record holder and the world-leading expert, but I am not too big to make fun of myself."
He says some players he works with are "surprised" by his role and have a "bit of a laugh".
And what about THAT Iran throw-in?
One request Gronnemark often gets is to replicate his world record throw achieved with a front flip in 2010, but he says he has eaten "too many cakes" to attempt it these days.
Iran defender Milad Mohammadi attempted a similar feat during the World Cup as they looked for a last-minute equaliser against Portugal - but failed.
"His run-up was too slow," said Gronnemark. "It was a funny situation, but he must have had some bottle to try to make a flip throw-in, but I know it is the hardest thing to do in football."