Luke Shaw: Man Utd defender says he nearly lost leg after injury
Last updated on .From the section England580
Manchester United defender Luke Shaw says he "nearly lost" his leg after breaking it in two places in 2015.
The full-back, 23, missed the rest of the season after suffering the injury in a Champions League 2-1 defeat by PSV Eindhoven.
Recalled by England for this month's games against Spain and Switzerland, Shaw said he feels "privileged" to be part of the squad again.
"I'd be lying if I said I didn't think about stopping playing," he said.
"I had a lot of complications with my leg and that was the really hard moment for me in my career.
"No-one knows but I was really close to actually losing my leg. I never knew that until six months later when the doctor told me.
"At the time, they were thinking about flying me back and if I'd have flown back, I would probably have lost my leg because of the blood clots and stuff.
"I've got - I don't want to talk about it too much - two scars down the side of my leg where they had to cut it open and pull them out because of how severe it was.
"But I don't really care about that any more. I feel really strong and my right leg is exactly as it was before my leg break."
Shaw became one of the most expensive teenagers in world football in June 2014 when, aged 18, he moved from Southampton to United for £27m, four months after his England debut.
He started only 17 Premier League matches in the two seasons following his broken leg, but has played every minute of United's opening four games this season.
He also missed two months of the 2016-17 campaign with a groin injury, and two foot operations ended his season early and delayed his start to the next season.
England face Spain in the Nations League at Wembley on Saturday, before a friendly against Switzerland at Leicester on Tuesday.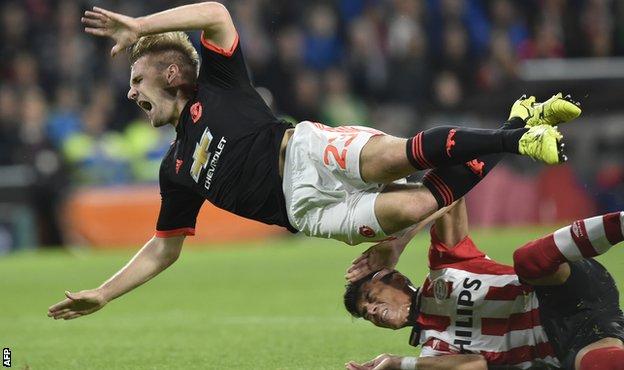 'From a kid to a man'
In April 2017 United manager Jose Mourinho criticised Shaw's attitude and focus, saying the defender was "a long way behind" his team-mates.
Six months ago Shaw's tactical awareness was also criticised, but earlier this season Mourinho said "we are very, very happy" with Shaw, called him "mentally and physically stronger" and praised his "better understanding" of the game.
"I've had an unfortunate two or three years. That's in the past and I'm just looking forward," Shaw said, denying claims he had in the past regularly drunk fizzy drinks and ate too many snacks.
"On the nutrition side, I wouldn't say I made massive changes. I've cut out some of the silly things I was doing.
"I wanted to prove everybody wrong and get back to my best. I'm feeling the best ever, not just on the pitch but off it. I've gone from sort of a kid to a man now."
'Mourinho has always believed in me'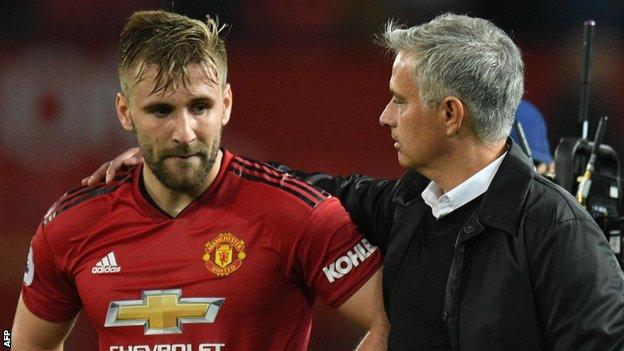 Shaw has played seven times for England but his most cap came in March 2017, as a second-half substitute in a 1-0 friendly defeat by Germany.
He said he was "gutted" to miss out on England's run to the World Cup semi-finals, and prompted him to do extra training in Dubai over the summer to get fit for the new season.
"Jose put his trust in to me at the start of this season and obviously at times, people thought he didn't trust me," said Shaw.
"It would have been easy for him to say 'I want to sell him, I don't want him here any more', but he's always believed in me.
"Mentally, it made me come out the other side and made me stronger, to want to prove to him that I can do what sometimes, in the last couple of seasons, he'd said I couldn't.
"At times, he got frustrated with me because he knew I could do better. Maybe, when I look back, at times he was right."