Laura Bassett: England can use past 'heartache' at Women's World Cup in 2019
Last updated on .From the section Women's Football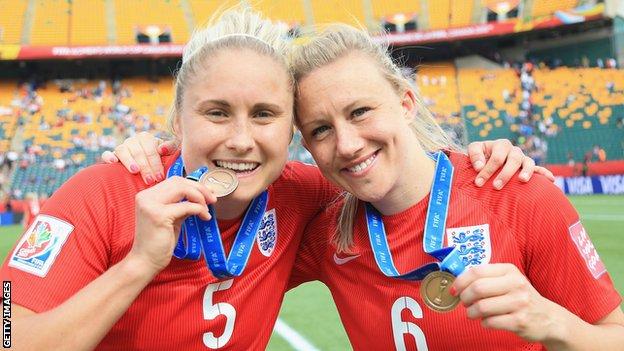 In July 2015, defender Laura Bassett was left devastated as her stoppage-time own goal sent England out of the Women's World Cup in the semi-finals.
Now, the 35-year-old - also a semi-finalist with the national side at the 2017 European Championship - believes Phil Neville's Lionesses can use their past pain to pursue glory in 2019.
Having secured qualification to next summer's World Cup by beating Wales in their penultimate game, they concluded their campaign with a 6-0 thrashing of Kazakhstan on Tuesday.
"Without those experiences in 2015 and 2017, you don't know what you're missing or just how close you are," Bassett, who has been capped 61 times, told BBC Sport.
"It's brilliant that we have a core group of players with experience of those two tournaments in particular, and tournaments when England have had heartache or come up short."
The Lionesses finished unbeaten in qualifying Group 1, winning seven of eight games and scoring 29 times, with only runners-up Wales shutting out their clinical attack.
And manager Neville, appointed in January, demonstrated his side's impressive depth by giving seven players their full debuts against Kazakhstan.
Bassett undecided on England future - but own goal still hurts
In September 2017, Bassett, whose international career spans 15 years so far, joined Australian club Canberra United after previous side Notts County had folded.
However, her playing days are on hold because she is expecting her first child - and the former Birmingham and Chelsea player admits fighting for a World Cup spot herself is "unrealistic".
"I haven't really thought about the future," said the defender, who also had spells at Arsenal and Leeds.
"Being pregnant is a really happy time for me and my boyfriend, and our main priority is preparing to bring our little baby into the world.
"At the minute, I'm just trying to enjoy myself. In terms of football, I think I'm a long way away - but who knows?
"I do seriously need to think about what comes next."
Bassett scored the unfortunate 92nd-minute own goal as England lost 2-1 to defending champions Japan at the last World Cup in Canada.
She says she has since gained comfort from that summer three years ago when the Lionesses reached their first World Cup semi-final - an achievement described at the time as a "tipping point" for women's football.
"Individually, it does still hurt. The men's tournament this summer and going onto next summer brings back memories, it always does," Bassett added.
"Good and bad memories are always going to pop into your head. I just find peace with those situations - I fully own it, I'm responsible for it, but you get perspective and it's a part of our history.
"We have to be proud of where we've come from and what we've done. Some things happen for a reason and I certainly haven't let that moment define me."
Neville, England's 2021 bid & progress in the women's game
England have been as high as second in the world rankings under Neville.
They are now fourth behind the United States, Germany and France, but news of the ex-England international's appointment received a mixed response, with some questioning his credentials in the women's game.
The Lionesses were then held to a draw in the former Manchester United and Everton player's first game qualifying in charge, following defeat by USA in the SheBelieves Cup finale.
But Bassett, who is yet to feature under Neville, says progress at international level takes time.
"I think now he's just beginning to settle in. The contact time isn't like a club environment where you can chip away and after a month you know everyone and you can impact on people. It's very different," said Bassett.
"I'm sure he has now got to grips with women's football, the leagues and the players - but, equally, he'll bring fresh ideas."
England, as the only applicants to submit a formal bid before the deadline, now look set to host the European Women's Championship for a second time in 2021.
And it is a move Bassett is fully behind - especially having watched keenly as the country staged the tournament in 2005.
"It's absolutely brilliant. I remember going to watch in Manchester with my parents - the attendance was just phenomenal. It gave a platform to women's football for our journey since. It's so exciting and exactly what this country needs for the women's game.
"Fingers crossed, we'll be coming off the back of a very successful 2019 and we should really be able to see some history made and record attendances."