Uefa: Leading European coaches call for away-goals change
Last updated on .From the section European Football105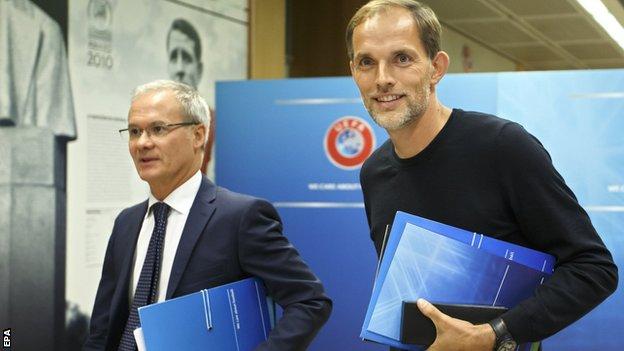 Europe's top club coaches have asked Uefa to review the use of the away-goals rule in continental competitions.
They also want the transfer window to end at the same time in all the continent's major leagues.
"The coaches think that scoring goals away is not as difficult as it was in the past," said Uefa deputy general secretary Giorgio Marchetti after the meeting in Switzerland.
"They think the rule should be reviewed and that's what we will do."
The annual gathering included Manchester United manager Jose Mourinho and Arsenal boss Unai Emery, plus Emery's predecessor Arsene Wenger, along with Juventus' Massimiliano Allegri, Real Madrid's Julen Lopetegui, Carlo Ancelotti of Napoli and Paris St-Germain's Thomas Tuchel.
The rule was first introduced in the former European Cup Winners' Cup in 1965 as an alternative to tossing a coin or staging a replay on a neutral ground when the aggregate score in a two-legged tie ended level at a time when travelling abroad was far more challenging.
In the event of a tie, the team that scores more away goals is the winner.
Marchetti said the coaches felt the rule was also counter-productive and that, as much as encouraging away teams to attack, it induced home teams to defend to avoid conceding a costly goal.
On the transfer window, he said the coaches wanted more countries to follow the example of England and Italy and close them before the start of the season.
In Spain, Germany and France, they continued until the end of August as before.
"The coaches are of an opinion that there should be a unified window and the window should close before the competition starts," said Marchetti. "The idea would be to try and bring them into line."