Chelsea and Scotland's Billy Gilmour eyes becoming one of world's best

By Jonathan Sutherland
BBC Scotland
Last updated on .From the section Scotland
"That's always been my ambition, to be the best player."
If any normal footballer pipes up and says he wants to become one of the best in the world, the normal reaction is to smile politely and promptly forget all about it.
But, when 17-year-old Billy Gilmour was asked what his ultimate ambition is, you can't help hope there might be a chance it could actually come true.
To become one of the best players in the world? "In the world, yeah," the midfielder replies. "I think every kid's dream should be that.
"If someone is better than me, I want to be better than them. I've always had a winning mentality and I hate losing, so when I see someone doing better, I need to match them."
How about taking Scotland to a major championship? "Definitely. That should be the next thing, hopefully."
It's remarkable confidence, but it's been a remarkable rise for Gilmour.
After being linked with Bayern Munich and Barcelona, he ended up leaving Rangers for Chelsea. He went to the Toulon Tournament at the age of just 16 - and took the under-20s competition by storm.
Not only did he win the Revelation of the Tournament award, but he also became the Scots' youngest-ever scorer as they reached the semi-finals. He even wore the captain's armband.
'No better midfielder'
His Scotland Under-17s coach, Brian McLaughlin, said that there was no better midfielder than Gilmour against all the top nations at the tournament.
The youngster from Ardrossan enjoyed hearing that, but it is important to remember Gilmour is only 17. It feels like people in Scottish football circles have been talking about him for years.
The success-starved football country is desperate for a star to emerge to take it out of the international wilderness.
Gilmour, though, is a grounded, highly-likeable character who looks like he will take any pressure that comes his way in his stride.
"I just enjoy football," he says. "None of that really bothers me. I'm too young for that. I don't need to get myself under pressure about that."
'He has fabulous technical ability'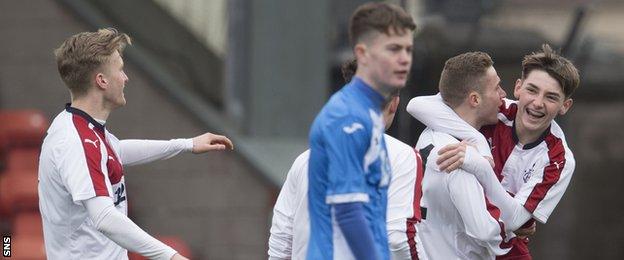 Scottish FA performance director Malky Mackay is hopeful that Gilmour can make a real impact.
"He's got a lot of potential," he says. "He's been on our radar since he was 11 years old and Craig Mulholland and the academy coaches at Rangers have given him a fabulous grounding.
"He's now taken another step - which is a very brave step to take, going down to Chelsea - and he's hit the ground running."
But does Mackay think Gilmour has what it takes to make it really big on the world stage?
"He absolutely has got fabulous technical ability," he adds. "It's his mentality. Can they have talent? Fine. Plenty of kids have that. But to play at the highest level, you need temperament.
"And we're certainly seeing that at the moment. It's potential and it's a progression, but it's a progression of potentially a very, very good player."