Safe standing: All-seater review to look at behaviour
Last updated on .From the section Football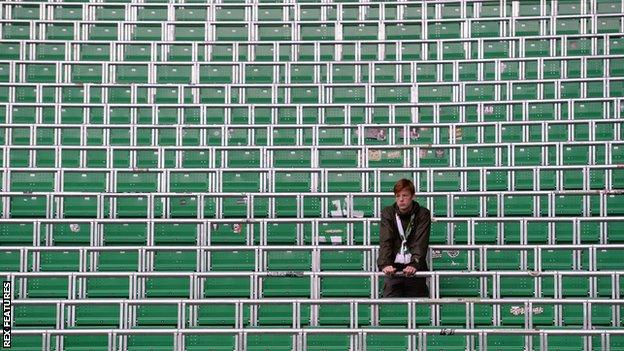 A government review of safe standing at football grounds will look at whether crowds behave worse if allowed to stand than when they are seated.
The review will also examine research on the risk of injury to fans persistently standing in seated areas.
Sports minister Tracy Crouch announced the review in June, saying that it would look at the evidence and data around the issue.
All-seater stadiums are compulsory in English football's top two divisions.
Standing was outlawed in the top flight and Championship by the Football Spectators' Act in 1989. That followed recommendations in the Taylor Report into the Hillsborough disaster, which claimed the lives of 96 Liverpool fans.
However, supporters have long campaigned to be allowed to stand at matches, citing improvements in safe standing technology.
Earlier this year 94% of the 33,000 respondents to an EFL survey said fans should be allowed to choose whether they want to stand or sit at games.
An online petition then prompted a Parliamentary debate on the issue, at which Crouch announced a review because "we don't have data or evidence to make a decision either way on this".
The government's Department for Digital, Culture, Media and Sport (DCMS) has now issued a tender document setting out the terms of reference for the review.
The "impact of standing on disorder" is among the areas that will be examined, the document says, along with stadium and seating design and technology and approaches to crowd management.
The review is expected to be completed by the end of the year.
Analysis
BBC sports news correspondent Richard Conway
After a long-held opposition to any change in the law, the government is now taking action.
The DCMS-commissioned review will examine if safe standing is feasible for England's top two divisions.
A section of Celtic's ground was converted in 2016 and this will also be scrutinised.
Advances in stadium design and growing enthusiasm from supporters are both now clearly established - but the sports minister Tracey Crouch will want to be thoroughly convinced over the available evidence, primarily in relation to safety, that a policy change is justified before backing any reforms.