Per Mertesacker: Ex-Arsenal captain 'relieved' not to play in final year at club

By Catrin Nye
Victoria Derbyshire programme
Last updated on .From the section Football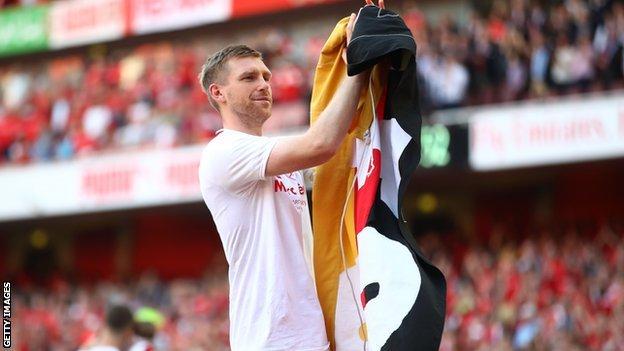 Ex-Arsenal captain Per Mertesacker says he felt "relieved" when he was not selected in his final year as a player because he was "struggling mentally".
Mertesacker, part of Germany's 2014 World Cup-winning squad, retired at the end of the 2017-18 season.
The 33-year-old told the Victoria Derbyshire show he felt "great" ending his 15-year professional career.
"Especially in my last year, I felt something and felt the pressure and it was very awkward sometimes," he said.
"I was happy about not necessarily playing, just training was enough for me."
The former centre-half was speaking about his mental health at the launch of a project to help traumatised child refugees at a camp in Jordan through football.
Arsenal are building pitches and have teamed up with Save the Children to develop a football programme to help their physical and mental health.
In March, Mertesacker told German publication Der Spiegel that instead of thriving on the glamour of his profession, the stress of performing induced nausea and diarrhoea.
Repeating his claim that football caused him anxiety, he said: "Being in a career and going from highlight to highlight and playing a lot of matches you go through it and think it's normal when you play in front of 60,000 and you almost want to vomit in front of every game.
"It's not right playing these games to have that fear about what's going on with me. The fact that I actually felt better after saying 'I'm going to stop', I had less pain."
Mertesacker won 104 caps for his country made 221 appearances for Arsenal in seven seasons at the club.
However, he featured just 12 times last term and had since become the club's new academy manager.
He believes speaking about his emotional wellbeing will help him empathise with the young players now in his care as he transitions into the role.
"It helps to get a connection even to young players because everyone has a story, everyone goes through something and to speak about your feelings is difficult," he said.
"I think it opens up and it gives them kind of a platform to think 'oh, he's been great. He has been a professional player for 15 years. But still. He suffered. He's suffered and battled fear and still made it' - so to talk about it definitely helps.
"As we all know, we're talking about elite sports, we're talking a lot in a very challenging environment as well. We cannot neglect to care about these kids and preparing them for life."
Aside from the mental strain attached to top level professional football, the former Hannover and Werder Bremen defender said his profile as a footballer had led to a lack of "privacy" and pointed to other drawbacks, including the strain that international tournaments had placed on his family life.
Mertesacker made his international debut for Germany in October 2004, aged 20, and featured at three World Cup finals between 2006 and 2014.
"Sometimes you don't feel like doing sports or don't feel like doing workouts [where you are] spending eight weeks together and you just don't see your family," he added.
"So it [football] has taken some bits and pieces as well - my health at one or two stages where you give absolutely everything and your body is just exhausted and you try to continue but your body says 'I'm done. I need an injury I need a break.' That's what I've experienced."
Watch the BBC's Victoria Derbyshire programme on weekdays between 09:00 and 11:00 BST on BBC Two and the BBC News Channel in the UK and on iPlayer afterwards.