England v Spain - after a summer of chaos, can Spain reign again?
Last updated on .From the section European Football142


Guillem Balague will be writing a regular column throughout the season and also appearing every Thursday on BBC Radio 5 live's Football Daily podcast, when the focus will be on European football.
You can download the latest Football Daily podcast here.
Spain play their first match since the World Cup when they meet England at Wembley in the Nations League on Saturday.
It will be the first game in charge for former Barcelona boss Luis Enrique, who took over as coach of the national team in July.
Spain's World Cup in Russia was little short of a disaster.
Coach Julen Lopetegui was sacked on the eve of the tournament after it was announced that he would be resigning after the World Cup to take control of Real Madrid, with Fernando Hierro put in temporary charge.
The team were then knocked out by Russia on penalties in the last 16 after scraping through the group stage.
As Luis Enrique prepares to embark on a new era, many in Spain are still trying to work out what happened in those mad few weeks earlier in the summer - and what to expect from the new-look side.
Be careful who you blame
The assertion that everything that happened at the World Cup is somehow the fault of former coach Lopetegui is way off the mark.
A hugely indignant Spanish federation president, Luis Rubiales, claimed he only knew negotiations were taking place between his coach and Real Madrid a matter of hours before the news became public - and that he had just five minutes' notice before the official announcement.
The reality is quite different.
The federation - and consequently Rubiales - knew well before then because the matter of 2m euros compensation for the loss of Lopetegui had already been discussed and agreed with Real Madrid.
It is surely inconceivable that compensation talks should have been taking place and the president unaware of them.
Real Madrid went for Lopetegui not because he was their manager of choice but because the likes of Tottenham's Mauricio Pochettino and Juve's Massimiliano Allegri had turned them down.
In came agent Jorge Mendes suggesting Lopetegui for the role.
It was only when Rubiales started to receive a whole heap of criticism from all and sundry that the mood - particularly the president's - changed.
Yes, Lopetegui could certainly have handled it better, perhaps telling Madrid to wait until after the competition before talking to them.
Madrid could hardly have handled it worse - except of course they could not care less because as far as they were concerned they were just doing what they wanted to in the best interests of the club.
President Florentino Perez did not want to appoint a failing national manager. Far better to have a sacked one before the tournament could evaluate his worth.
If this sounds to you like a football version of House of Cards, well, that's because it basically is. Big personalities, secret conversations, sneaky behaviour, and so on.
Rubiales, who was only elected Spanish federation president in May, is nothing if not a political animal.
In his new role - and with a number of people effectively asking him if he was going to let Lopetegui get away with such blatant disrespect - he decided to show everyone how strong he was was, who was in charge.
In his view, strong leaders make strong decisions. I think that sometimes not making decisions is also a sign of a very good leader.
Enter Luis Enrique - a strong man for Spain
When Sergio Ramos donned the mantle of leader and spokesman during the Lopetegui crisis and urged Rubiales to stand by the coach it was not best appreciated by the federation chief.
What, in Rubiales' mind, was needed was a manager as outspoken and volatile as he is, in order to bring everyone, most of all Ramos, in check.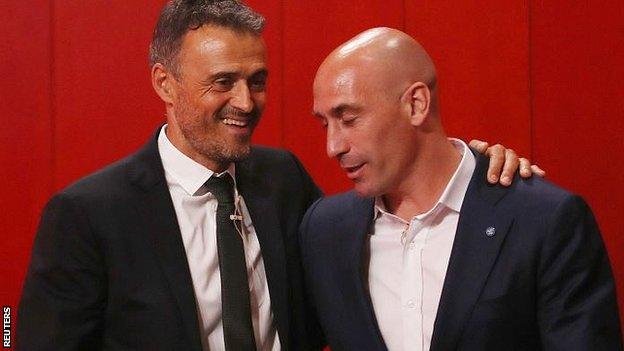 Enter Luis Enrique - a similarly volatile, speak-your-mind type of person; a manager that Rubiales believes Spain needs; a hard hand on the helm.
One selection - or rather non-selection - in his first squad tells us a lot.
After Luis Enrique left Barcelona in June 2017, Jordi Alba said he felt happier under new coach Ernesto Valverde. Alba is a regular at Barcelona and ideal for the usual Spanish possession-heavy game, but Luis Enrique has left him out of his squad.
This appears to be more for personal than professional reasons, as they both clashed in Luis Enrique's last few months at the Nou Camp.
Luis Enrique's relationship with the press will be an interesting one.
Other than interviews he is contractually obliged to do he will not do anything else and he is not able to disguise his total contempt for the media.
The Spanish press like managers who are diplomatic and accessible, available for the midnight radio shows on the eve of games, and Luis Enrique will not play that game. Clashes will follow.
Expect a new style for Spain
After the retirement of the likes of Andres Iniesta, David Silva and Gerard Pique, this is a new era for Spain.
Personally, I think Luis Enrique wants to change the style completely - moving away from a possession-based game, playing between the lines, to a more direct approach - and we will see glimpses of this against England.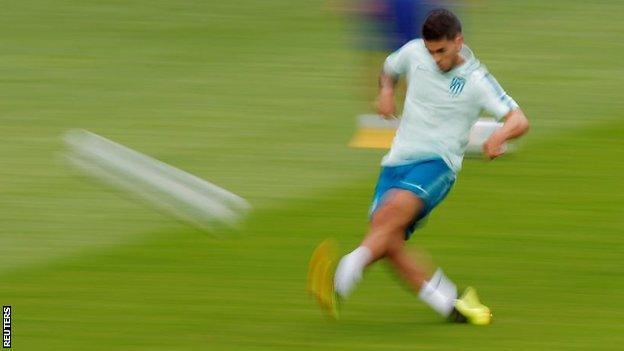 He worked at changing the style at Barca in his last year there.
Iniesta was on the bench a lot of the time, as was Alba, and he would play defensive midfield players alongside Sergio Busquets.
But his distant relationship with the players dictated that his time was up at the Nou Camp after three very intense (and successful) years and he did not really get the chance to fully implement the changes.
And, funnily enough, if he does change the style there will not be many complaints because most of the media that follow Spain are from Madrid, and in the Spanish capital the possession-based style that made us champions and originated elsewhere was always seen with suspicion, as if La Roja had been invaded by a foreign hoard.
After three consecutive major tournament victories, at Euro 2008 and 2012 and the 2010 World Cup, Spain have now have gone through three successive competitions where they have not made the quarter-finals.
New players like Atletico Madrid midfielder Saul, 23, Chelsea goalkeeper Kepa Arrizabalaga, 23, Real Madrid's attacking midfielder Marco Asensio, 22, and Atletico's Rodri, 22, are the future and will almost certainly be very important to Spain and ensure they will always be competitive.
But I don't see the experienced players of the past in this squad, absolute leaders in their teams, some of whom had travelled to foreign leagues and grown in the process.
We might never be as strong as we were for those extraordinary four years.
Maybe we need to begin to get used to the idea that we aren't going to be winning for quite a while.
But I could be wrong. Former Spain coach Luis Aragones was not diplomatic and disliked the press. Yet he took an underperforming side, changed the style and created a winning machine.
Could Spanish supporters dare to dream that Luis Enrique could do the same?