La Liga plans to subsidise fans for US game
Last updated on .From the section European Football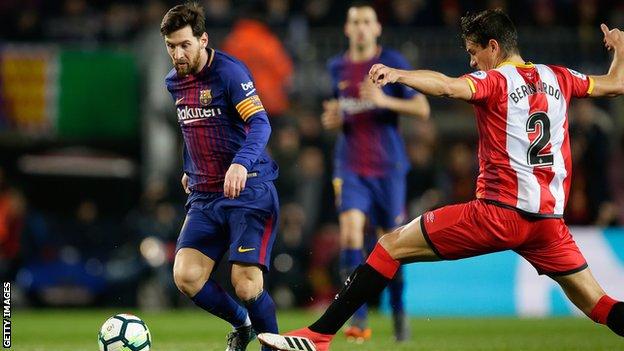 La Liga is planning to subsidise travel and accommodation for fans affected by its plans to stage an annual fixture in the United States.
According to Spanish media, Girona's home game with Barcelona on 27 January will be played in Miami.
Spanish football's top tier has agreed to move one game per season overseas for the first time as part of a 15-year deal with media company Relevent.
The Spanish FA and Spanish Footballers' Union have criticised the plan.
A source close to La Liga told BBC Sport the subsidised travel and accommodation would be for home season ticket holders, while others fans will be compensated for missing out on a home match.
Catalan newspaper Sport said there would be 1,500 free flights available for Girona season ticket holders and overnight accommodation, although a refundable deposit would be required.
It said those who did not want to travel would be given a ticket to the away game against Barcelona at the Nou Camp on 23 September, while fans who cannot do either would get a discount on their season ticket.
La Liga has not confirmed if the US game would be the Girona-Barcelona game, while both clubs refused to comment.
A La Liga spokesperson said: "At this time we can not confirm the clubs, location or timing of the match - just that we are working are with all involved, clubs, players, fans, institutions to make this happen and for all to be able to enjoy it."
The players' union - the AFE - says its members were not consulted by La Liga about the plan for the US game.
In August, players from all La Liga sides met to discuss the issue with AFE president David Aganzo, who refused to rule out strike action if needed.