Leroy Sane: Manchester City winger must improve, says Germany's Toni Kroos
Last updated on .From the section Man City80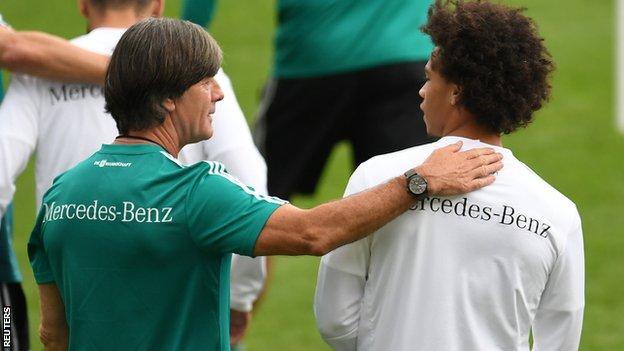 Leroy Sane is not fulfilling his potential and must improve his attitude to do so, says the Manchester City winger's Germany team-mate Toni Kroos.
Sane, 22, was left out of Germany's World Cup squad, but has returned for Thursday's Uefa Nations League tie with France and a Sunday friendly with Peru.
But he is yet to start for City this season, and was dropped on Saturday.
"Sometimes you have the feeling with Leroy's body language that it's all the same if we win or lose," Kroos said.
"He's a player who has everything you need to be a world-class player but sometimes you have to tell him he has to perform better," the 28-year-old Real Madrid midfielder added.
Sane won the Professional Footballers' Association Young Player of the Year award for 2017-18 as he scored 10 goals and assisted 15 times in the Premier League last season.
But he has played just 30 minutes from the bench in City's new league campaign, and was left out of the squad altogether for Saturday's 2-1 home victory over Newcastle.
"What is crystal clear is his quality, his pace, his left foot. If he performs, he's a real weapon," Kroos added.
"He has the quality, especially for us, but maybe the head coach looked at his performances for the national team and wasn't happy.
"He was fantastic for City last year but Pep [Guardiola] has the same problem at the moment - he's trying to get the best out of him."
Analysis
German football expert Raphael Honigstein
It's fairly unusual for team-mates to get involved but I think this situation reflects a real concern inside the dressing room. It may also reflect a sense that keeping this in house and saying this to him behind closed doors has not had the desired effect yet.
I think there is a concern in the dressing room that he's not really behaving as professionally as his status - which is still quite low within the national set-up - would demand.
Sane was not picked for the World Cup and part of that decision was based on his attitude. Manager Joachim Low was concerned he might not be totally focused if he didn't start, and was not sure how conducive that would have been to good performances.
He's had a bad start to the season but the bigger issue is we've always seen young players coming off good seasons or from a position of strength domestically going into dressing rooms of national teams, where they don't have the same reputation.
They are not really expected to say big things or behave in a way that suggests entitlement. If they do that they get slapped down, first in private and then in public.
This is a warning for Sane and a shot across the bow - especially if it is Toni Kroos saying it.