Oran Kearney has 'huge decision' over St Mirren offer - Coleraine chairman
Last updated on .From the section Irish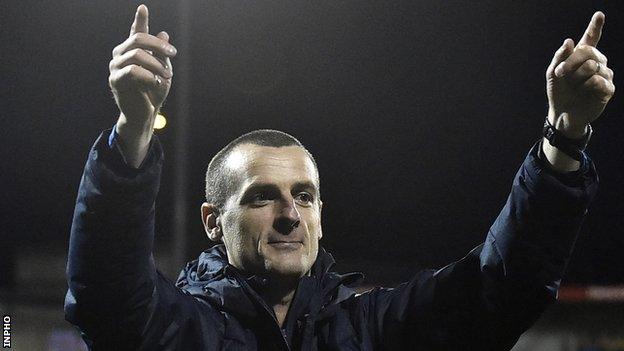 Coleraine chairman Colin McKendry believes his manager Oran Kearney has a huge decision to make over the vacant St Mirren job.
McKendry confirmed that Kearney spoke to the Scottish Premiership club on Wednesday about replacing Alan Stubbs.
The talks have been completed and it is understood that schoolteacher Kearney has been offered the job.
"It's a big opportunity from a football perspective, but Oran has an awful lot to consider, " McKendry told BBC Sport.
"He has a young family, he's a very family-orientated man and is a very professional man outside of the sport.
"I don't know the timelines, but if it is going to happen we would like it done quickly so we can both move on.
"Regardless of what the decision will be, I know that Oran won't take it lightly.
"We certainly don't want to lose Oran but wouldn't stand in the way of an opportunity, and if he did go it would be with my blessing."
Kearney, 40, was interviewed for the St Mirren job in the summer before the club's board opted to appoint Stubbs.
St Mirren won their opening game in the Scottish Premiership but three straight defeats then led to Stubbs' departure on Monday.
Kearney led Coleraine to the Irish Cup last season and his Bannsiders also finished a close second in the Irish Premiership after a campaign which saw them lose only one league game.
Kearney exit would have 'massive impact'
Coleraine moved top of this season's table on Monday night when they earned an impressive 3-0 away win over champions Crusaders.
Former St Mirren captain Jim Goodwin, who led Alloa Athletic to promotion from League One in Scotland last year, is among the other names who have been linked with the vacancy.
McKendry explained that if Kearney was to take the Buddies job, his departure would have a "massive" impact on Coleraine.
The Bannsiders lost midfielder Brad Lyons, who has been a key factor in their recent success, to Blackburn Rovers on Tuesday.
"Oran has set up a coaching structure at Under-20, Under-18 and Under-16, and is heavily involved in the academy," he added.
"We would therefore have to look at someone who would be conscious of bringing youth through like Oran has done.
"It's not ideal [the timing], but no decision has been made at this stage."