England under Southgate must build on progress not become victims of World Cup success

By Phil McNulty
Chief football writer
Last updated on .From the section Football432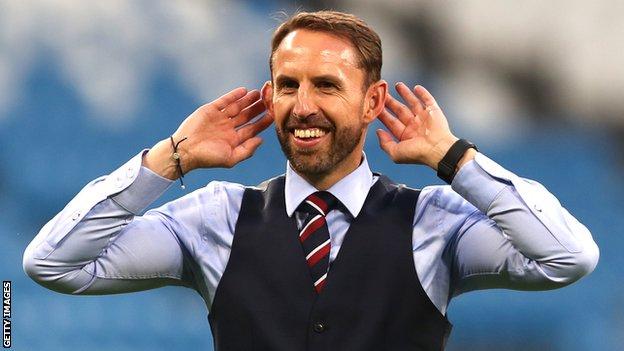 England move into the next phase of their development under manager Gareth Southgate after reaching their first World Cup semi-final for 28 years as they open their Uefa Nations League campaign against Spain.
Southgate and his England squad were showered in praise and goodwill for their efforts and modest demeanour in Russia - but will that success now bring added pressure and greater expectation?
Has Southgate had an easy ride?
Southgate has largely escaped criticism so far - but an easy ride? No.
The 48-year-old undoubtedly benefits from his rounded, modest character as well as an ability to place football in its proper perspective, but he has had criticism.
England and Southgate came under heavy scrutiny for some poor displays in World Cup qualifying and plenty of us at the World Cup criticised his decision to play a weakened team against Belgium in their final group game in Kaliningrad - even if defeat ensured a more accommodating route through the tournament.
Their results at the World Cup - played seven, lost three, won four, including one via penalty shootout - may now actually appear mixed but the bottom line is Southgate guided a largely unsung squad to within 90 minutes of their first final since victory in 1966, and did so in a manner that made fans feel genuine affection for the national team once more.
He returned home a hugely popular national figure. So whatever goodwill he benefited from, Southgate fully earned it.
Southgate is respected by his peers, his players and the media - but he will know that expectations will now rise significantly.
England's fourth-placed finish puts them back at the top table with all the pressures that brings, and relative success at a World Cup is soon forgotten if results are not maintained.
He must continue that progress and this is reflected in the consistency of his squad selection as Southgate and his reluctance to blood England's next generation, saying: "We only have 20 matches between now and the European Championships so we don't want to waste time looking at new things [but] to embed principles that are going to be with us over a period of time."
Southgate, being the sensible and realistic personality he is, will know there is an element of starting again against Spain at Wembley on Saturday and Switzerland in a friendly at Leicester on Tuesday.
He must now ensure he does not become a victim of his own surprise success.
England have built the platform
Jordan Henderson, one of the successes of England's World Cup campaign, is convinced they can use campaign in Russia as "fuel to be better and want to be the best."
And there is certainly a feeling of optimism emanating from England and the FA's base at St George's Park.
Southgate says England are "working off solid foundations" and England can pinpoint factors beyond a month in Russia that suggest the upbeat mood is justified.
They are current holders of the Under-17 and Under-20 World Cups and there are genuine hopes that teenage graduates from those ranks - such as Manchester City's Phil Foden, Borussia Dortmund's Jadon Sancho and Fulham prodigy Ryan Sessegnon - will soon be pressurising the established order. Everton's 20-year-old Ademola Lookman is another on England's radar.
Even among the current squad, there is now an expectation that Manchester United's rejuvenated full-back Luke Shaw might now be ready to fulfil the potential that saw him play as a teenager at the 2014 World Cup in Brazil.
Liverpool's Joe Gomez was on course for a World Cup place before suffering an ankle injury against the Netherlands in March but now he is back and in outstanding form for Liverpool, a real plus for Southgate as he looked a natural at international level in his early appearances.
Southgate is developing the spine of his England team around Everton goalkeeper Jordan Pickford, Manchester City defender John Stones and a world-class striker in Harry Kane. He also retains huge faith in Tottenham's Dele Alli and another City star Raheem Sterling to develop into talents that will flourish on the world stage, despite disappointing performances in Russia.
England's optimism is also in contrast to some of their rivals who departed Russia either in transition or about to embark on full-scale rebuilding.
Germany did not get out of the group stage while the likes of Spain and Argentina are in a state of flux after failing to fulfil ambitions.
Are England really in shape to win a tournament?
It is almost five years ago to the day that then FA chairman Greg Dyke addressed an audience high in the Millbank Tower overlooking London's famous landmarks and set out two long-term targets for England's national team.
Dyke insisted England should aim to reach the semi-final of Euro 2020 and win the 2022 World Cup in Qatar.
The first certainly looks realistic after Southgate's men reached the last four in Russia - but it is still stretching credulity to breaking point to start touting England as world-beaters amid the heat of Qatar in four years.
England can be pleased with their overall performance in Russia, but they have yet to fulfil Southgate's own demand that they beat a top team to be regarded as a top team.
In fact, they have not recorded a major tournament victory against a side ranked above them since they overcame third-ranked Argentina, when England were ranked 12th, at the 2002 World Cup in Japan.
In Russia, Southgate's men beat Tunisia with a stoppage-time winner, thrashed Panama, beat Colombia on penalties and comfortably disposed of Sweden.
But they fell short twice against Belgium, who were also ranked third to England's 12th, either side of the semi-final loss to Croatia, now fourth.
The statement win remains missing from England and Southgate's CV - a fact acknowledged by manager and players.
Kieran Trippier, one of the big Russia success stories, said: "We want to beat the best teams and Saturday against Spain will be no different. We need to beat these teams if we want to be up there."
It remains a psychological barrier for England it means all the feelgood factors from Russia must be tempered by cold, harsh reality.
In many respects, for all Southgate and his England squad's work in Russia, no-one can quite be certain just how good they are - but they are much closer to Dyke's goal than many suspected when he set the target.