Games Of Remembrance 2018: Nottingham Forest and Notts County host matches to mark end of First World War
By Owen Phillips
BBC Sport
Last updated on .From the section Football
Falklands veteran and former footballer Phil Stant says it is an "honour" that Nottingham will host two special Games of Remembrance to mark 100 years since the end of the First World War.
Notts County are to stage a women's match between the British Army Football Association and the German Bundeswehr on 8 November.
And Nottingham Forest will host a men's game later on the same day.
"It is so vital to mark the occasion in a fitting way," Stant told BBC Sport.
"And this will be a fantastic day. It is a great opportunity for football to remember both sides of the conflict, which is a wonderful thing."
A formidable lower league striker who starred for numerous clubs, including Notts County and Mansfield Town, Stant is as well qualified as anyone to talk about the Armed Forces and the beautiful game.
The 55-year-old former SAS bomb disposal expert was the driving force behind getting the memorial for the Footballers' Battalions of the First World War in 2010.
He served in the Falklands conflict as a 19-year-old before a successful playing career and his passion and interest in military history and football's link to the Great War has continued to grow.
The memorial, which rests in the French village of Longueval, serves as a humbling reminder of the suffering and bravery of so many men.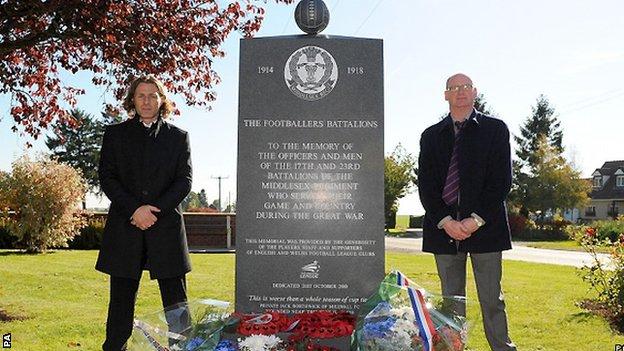 "The game has a responsibility to remember the sacrifice of players, managers and coaches who fought and died and were injured," said Stant, who now works as a regional manager for the English Football league working in youth development.
"The Games have taken an incredible amount of organising and planning and it will be fantastic and a day that will be remembered for a long time."
Alongside the football, the Games will feature various activities and displays of military equipment, vehicles and music, with fan zones and club legends VIP guests.
Sir John Peace, Her Majesty's Lord-Lieutenant of Nottinghamshire, said the 100th anniversary of the Armistice deserves a "special commemoration".
"Football speaks to many people, in many languages," he added.
"The Greatest Games of Remembrance are an opportunity for communities across Nottinghamshire to come together to pay their respects, learn more about the First World War and watch two highly competitive matches.
"In both the UK and Germany it is the national game and the Forces' game too. Nottingham has such a significant footballing history with two great clubs so close together - we couldn't think of a more fitting city to host the matches." 
Tickets for both games went on sale to the general public on Friday, 7 September and are available through the club websites and at the box offices.
Free group tickets are also available for schools, youth groups and football clubs at gamesofremembrance@gmail.com.