Truro City: Leigh Robinson has 'no excuse' not to do well, says chairman
Last updated on .From the section Football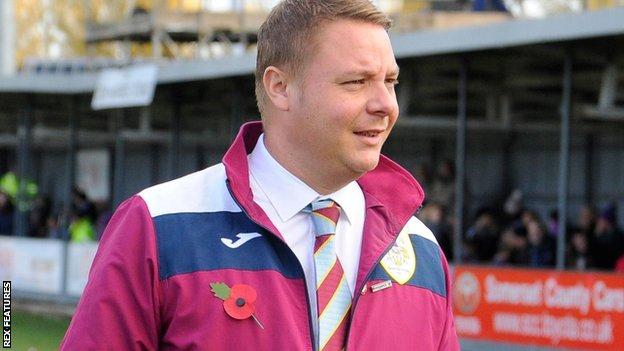 Truro City chairman Peter Masters says new manager Leigh Robinson has "no excuse" not to do a good job.
City, who are second from bottom of National League South and are yet to win a game this season, appointed the Taunton Town manager following Lee Hodges' resignation after two games.
Masters says he had 62 applications and interviewed 11 people for the job.
"He's got a good budget, so there's no excuse, he knows what he's got to do," Masters told BBC Radio Cornwall.
"He's a great lad and he's full of ambition and we can't wait to get going."
Robinson had been in charge at Taunton for six years, leading them to the Southern League Division One South title last season.
He also took the then eighth-tier Somerset club to the first round of the FA Cup in 2016, and lost in a replay to National League side Barrow.
"The short-term thinking is just to get that first win on the board and relieve a bit of the pressure," added Robinson.
"Some of the longer-term thinking is to start improving the league position up to mid-table."
Robinson has brought his assistant at Taunton, former Wales international Michael Meaker, with him as his number two at Truro.
"There'll be a good few weeks of getting to know the current players at the club and seeing what attributes they've got, what personalities they've got and see if they fit what myself and Michael want," Robinson added.
"Once we've made a judgement call on that it'll be time to move things forward."