Oran Kearney: New St Mirren boss makes move at the top of his game
By Michael Morrow
BBC Sport NI
Last updated on .From the section Irish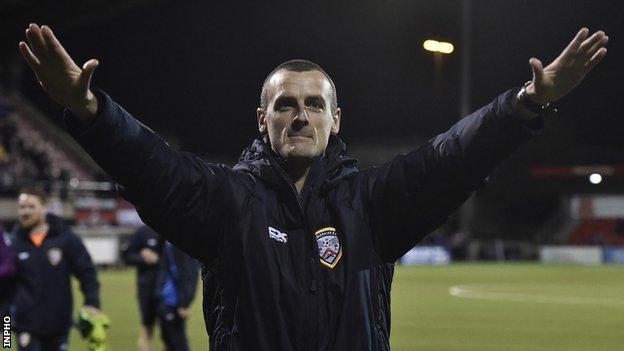 When a player from the Irish Premiership seals a move 'across the water', they tend to do so with well-wishes from fans of all teams in the league.
It is generally seen as a step up in the player's progression. Full-time football, bigger grounds and a bigger stage. Fans of the Irish League watch on, pleased to see a product reared in the local game given an opportunity.
New St Mirren manager Oran Kearney is the latest to leave the Irish Premiership on a wave of glad-tidings.
After seven-and-a-half years at the helm of Coleraine, Kearney has made his move into full-time management, and leaves at a point where his stock has never been higher.
The Bannsiders have lost just three of their last 54 domestic matches in a run that stretches back to the beginning of 2017.
During that time, they secured their first piece of silverware in 15 years by winning the Irish Cup and fell agonisingly short of the Premiership crown in a title race that went down to the final day.
Following Coleraine's cup triumph, Crusaders' league winning boss Stephen Baxter declared that it would have been a "travesty" had Kearney not ended the season with something to show for it.
'A completely different club'
When Kearney took over the reins in 2011, Coleraine lay third from bottom and a million miles away from title contention.
Now the 40-year-old leaves behind a team which most expect to be right in the mix at the top come April.
Despite the obvious upwards trajectory, Kearney's time as Coleraine boss was far from an evergreen affair.
In his first two seasons in charge Kearney, a PE teacher at a secondary school in nearby Ballycastle, secured two top-six finishes and steadied a ship that has long been a feature of the top flight.
In 2013-14, things began to go south for the Bannsiders once more. A long winless streak before Christmas nearly proved terminal for Kearney who later admitted that he came close to resigning.
Despite a ninth place finish, the manager was given the backing of the board and chairman Colin McKendry.
A year later, after another disappointing campaign ended with an eighth-place finish, McKendry offered Kearney a one-year extension to the surprise of many.
"There were bumpy times and there were decisions taken that weren't the right decisions, but that all leads to the strengthening of character," reflects McKendry.
"Looking back on it now, I personally wouldn't change a thing because we have won a trophy and qualified for Europe two years in a row.
"Coleraine is a completely different club now compared to the one that it was when Oran found it."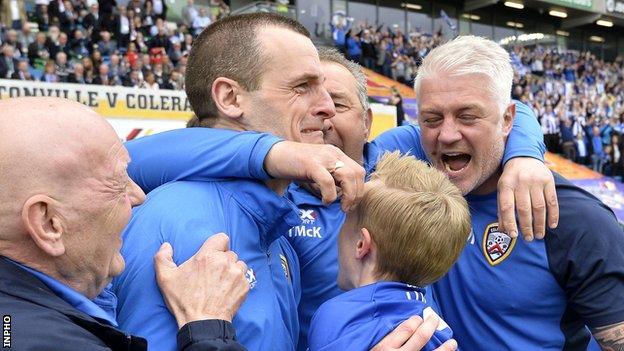 No regrets
St Mirren's summer interest clearly excited Kearney, who responded to missing out on the role by saying he had "no regrets".
Once the Buddies parted ways with Alan Stubbs, the opportunity that Kearney presumably thought had passed him by just a few months ago suddenly presented itself.
In the end, the allure of full-time management in professional football proved too tempting an opportunity to turn down.
"Oran has worked through bad times at Coleraine and that's important as a manager," says Northern Ireland boss Michael O'Neill.
"He's going into a club which hasn't had a great start to life back at the top level of Scottish football.
"The fact that they have come back to him now shows how highly they think of him."
Kearney leaves behind a club, and a group of players, moulded in his image.
Time will tell how big an impact his departure will have on a club that he leaves at the top of the table, and as Irish Cup champions.
The good wishes have, once again, come from right across the Irish League spectrum.
He leaves behind a group of players and a set of fans having earned their unwavering loyalty.
However, when an opportunity like this presents itself few, if anyone, can begrudge him taking the opportunity.
A new challenge, and it is a big challenge. But it is one that he has to take, in order to have no regrets.