Mark Lawrenson: How Football Focus viewer alerted me to cancer scare
Last updated on .From the section Football

Towards the end of last season, the editor of Football Focus received an email from a viewer saying they had seen me on TV and noticed I had a bit of dark skin on the left side of my face.
Their message was I needed to get rid of it, or at least get it checked out urgently.
I was already aware of the blemish and was planning to get an appointment about it but, like a typical 60-year-old bloke, I had been putting it off rather than sorting it out.
That email was the kick up the backside I needed. I went to get it looked at immediately, and it was cancerous so I had it whipped out straight away.
I would urge anyone with any similar doubts about a mark on their skin not to wait, and to do the same.
People can be very stubborn and ignorant, thinking 'well it is not going to happen to me', but of course it does.
I never found out who the viewer was who contacted the show, but we are trying to track them down now.
I would love to be able to get in touch to thank them, and hopefully this article will help that to happen.
'Waiting to see if it had spread was the worst part'
When the viewer's email was passed on to me, I immediately went to my medical centre to tell them and I got to see a specialist that day.
He had a look at the blemish through the special instrument they use and said he needed to send me to Ormskirk Hospital to get it taken out.
I had that operation at the start of June. The guy at Ormskirk who did it, a Mr Boyle, joked he was in a bit of a rush because he was going to see the Rolling Stones at Old Trafford that night, so there was no messing around.
He was in, done, and had sewn me up in a matter of minutes and what he took out was sent away to be tested.
You get the news a few weeks later. I looked at the woman who told me and thought, 'is it malignant or benign that I want?'
She kind of read my thoughts and said: "Mark, you want benign but you have got malignant - but don't worry about it."
That is when I got sent to Whiston Hospital for another operation in August, and the specialist - Mrs Harper-Machin - told me she would have a good root around and check my lymph nodes, which are like the conductors of your body, to see if it had spread.
That was the worst bit because you have to wait for about a month to find out but, in all honesty, I was just thinking that, whatever the outcome, I could not change it.
The people who knew what was going on said I seemed very cool and calm about it but I kept saying that until I knew what was happening, I couldn't do anything about it.
'It was hard to decide what to tell my children'
I carried on working as normal over the summer, firstly at the World Cup in Russia, and then since the start of the new season. I have not done anything differently since that first diagnosis.
My scar, which is fading away every day, was very prominent in the first couple of weeks because of the glue that Mrs Harper-Machin had put on the dissolving stitches.
I have had two bits of plastic surgery done, but the problem is they are both on the same side of my face. I asked if I could have the other side done as well, to give that a bit of a tuck, but unfortunately they couldn't arrange it.
People were asking me what I had done and you cannot really say it is nothing because it looked like I had been in some kind of brawl.
But I did not make it news for everyone. The hardest decision was what to tell my children - my son Sam, who has just turned 19, and my daughter Ruby, who is 15.
As soon as you mention the word 'cancer' then that is obviously very frightening for them so I had to decide what information I gave them as things developed.
An agent I know rang me at one point and said he had somebody on from a national newspaper, saying they had been told I had a brain tumour.
But I said 'no, I have not quite gone down that road yet' and I am pleased that I have been able to tell the story about what has happened myself.
'I was looked after by a Liverpool fan and an Irishwoman'
Waiting for the verdict was like having the Sword of Damocles hanging over my head, until I went in on Wednesday to get the results.
I have been in that situation before, when my sister Lisa was diagnosed with terminal brain cancer in 2003, and I expected the worst when I walked into the room.
Mrs Harper-Machin started by saying 'it's good news', which is all I wanted to hear.
Then she was explaining what they had done and all of that, but I was not listening - she could have said that I owed her a couple of million pounds and I would not have been bothered because I had the news I wanted.
I tweeted about it on Thursday because they were brilliant to me in Ormskirk and Whiston hospitals. If I had gone private, I could not have had better care.
I have had my heart, blood pressure, everything all checked out. As one of the nurses, a little Scouser, said to me: 'Hey, you're having an MOT mate - look on the bright side.'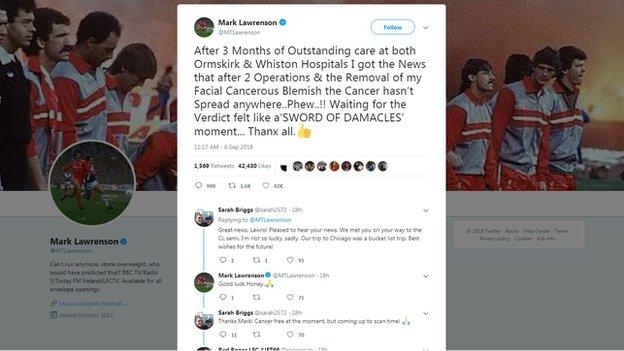 It was strange who ended up looking after me too.
Mr Boyle is a Liverpool supporter and a massive Kenny Dalglish fan, so I was thinking 'he is not going to slice me too badly, is he?'
And Mrs Harper-Machin is Irish, so she was always going to look after me too.
I was thinking at the time that could this be the man upstairs saying to me: "You'll be all right - I've got a Liverpool fan and an Irishwoman to sort you out."
I really appreciate all the messages I have had since I put that tweet out, from ex-team-mates to colleagues and further afield.
To be honest I have never had such a positive response from the Twitterati before - even from Everton and Manchester United supporters - but I know it will probably only last until my next set of predictions go out.
Mark Lawrenson was speaking to BBC Sport's Chris Bevan.